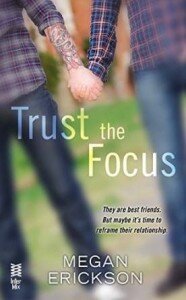 Title: Trust the Focus (In Focus #1)
Author: Megan Erickson
Publisher: InterMix
Release Date: March 17, 2015
Genre(s): Contemporary
Page Count: 219
Reviewed by: Gigi
Heat Level: 5 flames out of 5
Rating: 5 stars out of 5
Blurb:

With his college graduation gown expertly pitched into the trash, Justin Akron is ready for the road trip he planned with his best friend Landry— and ready for one last summer of escape from his mother's controlling grip. Climbing into the Winnebago his father left him, they set out across America in search of the sites his father had captured through the lens of his Nikon.

As an aspiring photographer, Justin can think of no better way to honor his father's memory than to scatter his ashes at the sites he held sacred. And there's no one Justin would rather share the experience with more than Landry.

But Justin knows he can't escape forever. Eventually he'll have to return home and join his mother's Senate campaign. Nor can he escape the truth of who he is, and the fact that he's in love with his out-and-proud travel companion.

Admitting what he wants could hurt his mother's conservative political career. But with every click of his shutter and every sprinkle of ash, Justin can't resist Landry's pull. And when the truth comes into focus, neither is prepared for the secrets the other is hiding.
I absolutely adored this story of MC Justin and MC Landry's tour across America in Justin's RV "Sally".
Best friends Justin and Landry are off for a summer of visiting Justin's father's favorite photographic landmarks. Justin's beloved father died and willed his Winnebago to Justin and Justin feels the best way to honor his memory is to visit the landmarks and scatter his father's ashes in each of these US locations. Landry tags along and blogs their adventure for their friends and family to enjoy along the way. He uses the hashtag #JusLan in his blog posts.

Justin, in the closet because of his conservative mother who is a State Senator, has been in love with his openly gay best friend since puberty. During their journey, mutual feelings come to light and the boys begin a romantic relationship that is lovely and filled with love and romance, but also with
hot-as-hell sex
. Yummy!
Of course they run into some bumps along the way and Justin has a pretty big decision to make about his future, but the HEA was magical and worth every moment of angst.
I can HIGHLY, HIGHLY recommend this enchanting tale to every M/M romance lover on the planet. It will play with your emotions (in the best possible way!) and you WILL fall in love with these boys.
#JusLan Forever