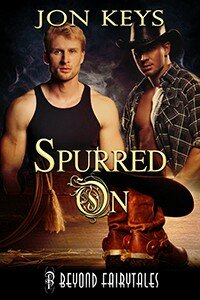 Title: Spurred On (Beyond Fairytales)
Author: Jon Keys
Publisher: Decadent Publishing
Release Date: August 4th 2015
Genre(s): M/M Erotic Romance
Page Count: 94 Pages
Reviewed by: Belen
Heat Level: 4 flames out of 5
Rating: 2.8 stars out of 5
Blurb:

A M/M retelling of Cinderella…

His wicked stepfather is trying to drive Kegan off his family's ranch…
He promised his dying father to always be there to protect his mother. But when she leaves on a cattle buying trip, his stepbrothers join in to bully and overwork him. Can he hang on until her return? And even if he does, how can he tell her that her new husband is evil incarnate? The only bright spot is Cole, a handsome neighbor he's admired from a distance.

He's new in town, and his parents are holding a rodeo…
It's not easy to meet new people in an established ranching community, but a rodeo will draw everyone in and give Cole an opportunity to make friends and show his skills in an arena they all understand. Maybe even get to know someone special.

A mystical medicine hat stallion walks into Kegan's life…
It's not long before they are the talk, and mystery, of the rodeo. The only thing more daunting than keeping his identity secret is how Kegan is going to balance all this with his draw to the man of his dreams. Will Cole end up being his magical prince, or is Kegan going to find himself left in the dust?

When I first read the blurb for this modern day retelling of "Cinderella" with gay cowboys my only thought was…Sign me up!!
When Kegan's mother remarries David, Kegan doesn't have the heart to tell her David, and his two sons, Seth and Brent, have already been making threats and bullying him. They taunt him endlessly, call him "Dusty", and pawn off their chores or duties on Kegan or destroy his stuff. Their abusive treatment grows worse when Kegan's mother leaves on a buying trip for several weeks.
Everything changes when a neighboring family sponsors a three day rodeo and a magical horse and some perfectly fitting clothing show up.
I loved the idea of this story. I was really excited to see a modern retelling of the popular fairytale from a M/M perspective.
Where this fell short for me was on the execution. Two major points took away my enjoyment from this story because they just bugged the hell out of me.
Spoiler

Miscommunication. I couldn't understand why Kegan didn't talk to his mother. They were very close and his mother was no pushover. Why he wouldn't talk to her prior to the wedding about David and his son's behavior was a mystery, and then to continue to allow their abusiveness and bullying in the weeks following the marriage before his mother leaves on the buying trip was simply baffling to me.

The reason why the Cinderella fairytale works so well is because there was no one to come to Cinderella's aid and she had nowhere to go to escape from her horrid step-family. Her father, who had been, and would have continued to be, her staunchest supporter had died.

In this iteration Kegan's mother is still very much alive, his best friend Alec is a wonderful supportive character, and they are both seniors in college so it made no sense to me why Kegan would put up with what he did. Why not stay with Alec for the time his mother would be away if he didn't want to communicate and burst her bubble that she was married to an abusive asshole? If your reason for staying is because you promised your dead father you'd look after your mother, then why wouldn't you warn her to begin with? Why let her marry a guy who's clearly out for her money and makes not so subtle threats about how "it's amazing how common accidents are around a ranch, especially for a frail woman"?

The rodeo. It was a three day rodeo where Kegan participated all three days. I found it impossible to believe that Kegan changing his name on the entry forms to "Dusty" (which is the name the two idiot stepbrothers exclusively call Kegan) would be enough to keep him anonymous from them and everyone else. Also, three days? The kid has lived his entire life in "the tiny Colorado town" and yet not one person from the area attending the rodeo recognizes him? He wasn't masked. That whole point just baffled me.

Again, part of the reason the Cinderella tale works is because she's in disguise, she's not known to the gentry, it's only for a couple of hours, and NO ONE can tell who she is.
Also, there were a couple of minor bothersome points for me that further diminished my enjoyment of the story.
Spoiler

Cole's family is not "new" to town – they've been there for years. The blurb makes it seem like they just moved to the town and they hold the rodeo in order to have Cole get to know the neighbors – but Cole's father is the president of the bank and they "bought out the old Taylor place a few years before."

Also, I never found out who or what was behind the magical clothes and the horse. I was hoping for some resolution to that mystery.
The bottom line? This has some enjoyable moments, some HOT sexy times and a sweet HEA, but it needs some editing to make a bit more sense.

 Author Link GoodReads

Advanced Review Copy
Copy generously provided by Decadent Publishing in exchange for an honest review.