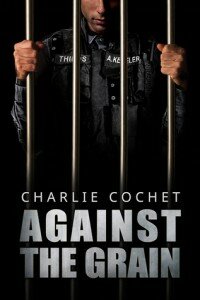 Title: Against the Grain (THIRDS #5)
Author: Charlie Cochet
Publisher: Dreamspinner Press LLC
Release Date: August 3rd 2015
Genre(s): M/M Paranormal Romance
Page Count: 220 pages
Reviewed by: Belen
Heat Level: 3 flames out of 5
Rating: 3.5 stars out of 5
Blurb:
Sequel to Rise & Fall
THIRDS: Book Five

As the fiercest Defense Agent at the THIRDS, Destructive Delta's Ash Keeler is foul-mouthed and foul-tempered. But his hard-lined approach always yields results, evident by his recent infiltration of the Coalition. Thanks to Ash's skills and the help of his team, they finally put an end to the murdering extremist group for good, though not before Ash takes a bullet to save teammate Cael Maddock. As a result, Ash's secrets start to surface, and he can no longer ignore what's in his heart.

Cael Maddock is no stranger to heartache. As a Recon Agent for Destructive Delta, he has successfully maneuvered through the urban jungle that is New York City, picking up his own scars along the way. Yet nothing he's ever faced has been more of a challenge than the heart of Ash Keeler, his supposedly straight teammate. Being in love isn't the only danger he and Ash face as wounds reopen and new secrets emerge, forcing them to question old loyalties.

Can I tell you how excited I was to finally get Ash and Cael's story? VERY EXCITED! There may have been some squeals heard when I got this book. Maybe. Though I'll deny it actually happening if anyone asks.
I've been waiting for their story ever since Hell & High Water.

Picking up immediately where Rise & Fall left off Against the Grain starts off humorous with Tony confronting Sloane and Ash as to their intentions. As quickly as the humor comes so does the action, adventure, sexy times, and all sorts of secrets about Cael and about the THIRDS…



Between all of the covert craziness we're treated to the nail biting will-they-won't-they yo-yo back and forth of Ash's inner struggle wanting to be with Cael, being in love with him, and yet constantly pushing him away…I'll admit I was totally frustrated.
He was afraid they'd hurt him. Cael had his heart. There was no denying it. Ash had presented Cael with the most vulnerable part of him. Was he overthinking their relationship? Next to Sloane, Cael had been his closest friend. Their relationship had changed, but their friendship was still there. The only difference now was that he could act on all those desires that had secretly consumed him for so long.
"You're so beautiful," he said quietly, reaching out, then pulling back. He shouldn't start something he couldn't finish. It wouldn't be fair to either of them. Fucking hell. Everything he'd ever wanted was right in front of him. All he had to do was reach out…
Of course, knowing they had to end up together, I persevered!



This is really hard to review, because I would have to spoiler much of the story, and I don't want to do that here. I know, I know! Try to contain your absolute shock and incredulity that I am opting to not spoil the story.



Yeah, you're right – who am I kidding? Click on the spoiler here to get the low-down on spy-town…or not, you know, if you want to be all pleasantly surprised and stuff.
Spoiler

Tony tells Ash about Cael's crazy ex, Fuller, who is also a Lion Therian and who systematically physically and mentally abused Cael for two years before Tony and Dex got Cael to admit to the abuse and end the relationship.

Sparks is a part of TIN – Therian Intelligence Network, which is sort of the Therian version of the CIA and Austen is also working for TIN and reporting to Sparks…who is a total badass.

"Holy shit!" Dex turned to Cael. "Dude, did Sparks just shank that guy with an arrow?" He turned back to Sparks. "What the fuck is going on?"
"Good job, Austen."
Austen gave her a two fingers salute. "Ma'am."
"Are you two all right?" Sparks asked, collapsing the bow and clipping it to her thigh rig.
Cael was having trouble finding his words. His brain had ceased functioning.
"Yes. Sort of. No."
Apparently so had his brother's brain.

Sparks is not only badass, but she knows everything!

"Can it, Agent Daley. I work for Therian Intelligence. You really think I'm not going to know when my agents are in a relationship? I know everything. Whole damn team is sleeping with each other. Rosa and Letty are the only ones not breaking protocol. I mean, there's a lot of sleeping around going on in Unit Alpha, but you guys take the cake."
"When you say everything…" Dex prompted.
Sparks narrowed her eyes at him. "I mean everything. Your relationship with Sloane, the fact he's moving in with you, when you decided to play Batman and orchestrated an unsanctioned mission including Sebastian Hobbs and the rest of your team. I know about your naps during assembly, the gummy bears in your desk's top right-hand drawer, along with the Cheesy Doodles, the Peanut M&M's, the pretzels, plantain chips, and I seriously hope you listen to Agent Brodie about changing your diet." She turned and started walking again.

Someone in the Branch of Therian Defense decided to fund a side project creating a drug called Peitharchia7, which is like a super version of the drug Isaac injected Dex with back when. It basically suppresses the Human side of a Therian.

Cael's abusive ex shows up conveniently to tranq and take Sloane, Ash, Hobbs, and a bunch of other THIRDS agents so they can be experimented on with this unsanctioned military-grade mind-control drug.


I'd like to say for once I didn't see the "bad guy" coming…but I totally did. And boy, is he a total dick.
Once again it's Charlie Cochet's fabulous use of humor that makes this series so thoroughly enjoyable for me.
Full of humor, action, suspense, and sexy times – fans of the series won't be disappointed with this installment. RECOMMENDED!
Side note: I can hardly wait to get this on audio so I may enjoy Mark Westfield's performance.

 Author Link GoodReads

Advanced Review Copy
Advanced review copy of provided by
Creative Minds
in exchange for an honest review.