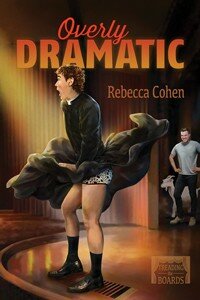 Title: Overly Dramatic
Author: Rebecca Cohen
Publisher: Dreamspinner Press LLC
Release Date: August 19th 2015
Genre(s): M/M Contemporary
Page Count: 131 Pages
Reviewed by: Belen
Heat Level: 2 flames out of 5
Rating: 2.6 stars out of 5
Blurb:

A Treading the Boards Novella
Andy Marshall moves to London looking for a fresh start after breaking up with his long-term boyfriend. To stave off boredom from his day job as an accountant and to meet new people, Andy joins a local amateur dramatics society called the Sarky Players based in Greenwich, South London. Despite his best efforts to avoid it, Andy is cast as one of the leads in a truly dreadful play called Whoops, Vicar, There Goes My Trousers, written by a local playwright.

The play might be bad, but the Sarky Players are a friendly bunch. Andy quickly makes new friends and finds himself attracted to Phil Cormack, a local artist helping with the props. But life doesn't run to a script, so Andy and Phil will have to work hard to improvise their own happy ending.

While the story is fine and the characters adequately fleshed out I never really engaged with anything. I read the story after the first five chapters in an almost perfunctory manner.
I think this might be a "It's not you, it's me…" situation. Mostly because it's me not caring.


Truly, nothing really bothered me about it, but nothing thrilled me either.


Recommended with caution.

 Author Link GoodReads

Advanced Review Copy
ARC Copy generously provided by Dreamspinner in exchange for an honest review.