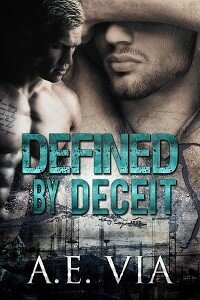 Title: Defined by Deceit
Author: A.E. Via
Publisher: Via Star Wings
Release Date: March 26th 2015
Genre(s): M/M Contemporary Erotic Romance
Page Count: 300 pages
Reviewed by: Belen
Heat Level: 4 flames out of 5
Rating: 4 stars out of 5
Blurb:

Life isn't always fair, and that's something that Llewellyn Gardner knows about first hand. His life was on the fast track until one night of extreme passion changed everything. Now eight years later, he's still living with the aftershocks of that night. Everywhere he turns or runs, there's another reminder. What the hell do you do when you try to drown your demons only to find out they can swim?

Shane Smith, Jr. owner of Smith Construction, could see the emotional turmoil within his new employee — it's why he hired him. There was something about the gorgeous, misunderstood man with the overly expressive eyes that came to their small town with a past no one was willing to overlook. Shane could see the good in Llewellyn, and those eyes of his were a clear window to his soul. Shane wasn't going to let the man live a future of solitude because his past had been plagued with deceit.

Llewellyn wasn't sure what to think about Shane. After years of protecting himself from being tricked twice, he was now faced with worry again. What would happen to him if Shane didn't believe his truth, and walked away? Llewellyn wasn't sure he'd be able to survive being left alone. Again.

Blurb Written by: Crystal Marie of Crystal's Many Reviewers

This story just about broke my heart!

Llewellyn Gardner is 18 years old with his whole life in front of him: academic and athletic scholarships being offered to some of the best schools, and a boyfriend he loves wholeheartedly. One night of passion ruins everything.
Spoiler

Unfortunately, his boyfriend, Moss, is a spineless little coward who won't admit to his family that he is gay and a pain slut. So when Moss' parents come home early from a trip and find Llew rough fucking their son, Moss claims rape. Because Llew is 18 (and Moss 17) Llew gets arrested, convicted and sentenced to 10 years in prison.

Prison is especially difficult, particularly because he's known as a child molester (because Moss was "underage"), until he joins the "crew" of another inmate with power.

Once Llew serves his sentence and is released his life continues to be completely screwed. His brother's business almost goes under because the people in their town don't want Llew working on their landscaping, and he's basically run out of town.
He winds up in another small town, and, by luck, meets the two people who will help change his life for the better. One, Ms. Pat, is a wonderful mother figure, and the other, Shane, becomes the man who helps to remake him whole.
I loved this story. Yes, there are definitely some issues I had with it, in particular: sometimes the scenes didn't flow properly, some editing issues and I thought the ending could have concluded a little more gracefully…but it didn't detract from the way the story made me feel. I felt so much for Llew, and was so sad, mad, and happy on his behalf.
I would definitely recommend this story!

 Author Link GoodReads