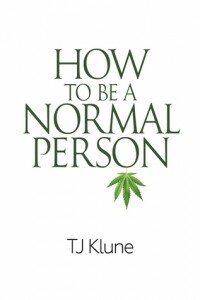 Title: How To Be A Normal Person
Author: TJ Klune
Publisher: Dreamspinner Press
Release Date: October 16, 2015
Genre(s): Contemporary
Page Count: 290
Reviewed by: Renee
Heat Level:  1 flame out of 5
Rating:  4 stars out of 5
Blurb:
Gustavo Tiberius is not normal. He knows this. Everyone in his small town of Abby, Oregon, knows this. He reads encyclopedias every night before bed. He has a pet ferret called Harry S. Truman. He owns a video rental store that no one goes to. His closest friends are a lady named Lottie with drag queen hair and a trio of elderly Vespa riders known as the We Three Queens.

Gus is not normal. And he's fine with that. All he wants is to be left alone.

Until Casey, an asexual stoner hipster and the newest employee at Lottie's Lattes, enters his life. For some reason, Casey thinks Gus is the greatest thing ever. And maybe Gus is starting to think the same thing about Casey, even if Casey is obsessive about Instagramming his food.

But Gus isn't normal and Casey deserves someone who can be. Suddenly wanting to be that someone, Gus steps out of his comfort zone and plans to become the most normal person ever.

After all, what could possibly go wrong?
I've been waiting on this book for a while. I eat up anything from TJ. I adore his writing!
So imagine my surprise when I found out one of the MC's was an asexual stoner hipster…
And then I get the ARC??!! Happy dance time!! I was NOT disappointed.
This is the tale of Gustavo Tiberius (Ring any bells? BOATK3) and Casey Richards. Gustavo's only living relative, Pastor Tommy, his dad, passed away a few years ago. He owns several buildings in a smallish town and works in a video rental store. He lives in a pseudo-Groundhog Day. Rinse. Repeat. Every day. And he likes it that way.
Gus wakes up at the same time. He does push ups. He reads the inspirational quotes forced upon him by the We Three Queens (the maybe sisters/maybe lesbian best friends who've adopted him). He showers, eats an apple, and takes his pet ferret outside. He gets coffee across the street and opens the video store. Gus is stuck in quite the rut! And he's quite the bitter little pill. But he's lovable. He cares for his friends in this small town, and they love him and see past his quirks and scowls and bitterness.
Gus's little orderly world is thrown off its axis when Casey moves to town. Casey with his beard and his chest hair and his comebacks. He pushes all of Gus's buttons and just digs his way in.
This is Gus and Casey's story. I love the classic TJ snark and banter. I love the little romantic moments that come out of nowhere, but make the reader swoon – Stoner Scrabble!!!! And I am happy to say that I did not have wookie cry face, although there were some amazingly touching moments.
TJ has shared with his fans that this is his baby, his favorite. And not long after he had his recent "coming out" as asexual himself. I can't imagine the bravery it takes to continually come out. And most recently with a word that most have heard but very few really understand. That's what I appreciated most about How To Be A Normal Person. I felt like I got a glimpse into TJ's life, and I was thoroughly educated on asexual, aromantic, demisexual, and other terms that people use to identify with.
And I am happy to say that while I immensely appreciate learning new things, TJ is still TJ. Casey was still Casey. And Gus had one hell of a scene with Casey's ex where he demonstrated just how much others who demand labels can go fuck themselves! Labels are only important to those who identify with them and IF they choose to share that label with others. I was fist bumping the hell out of Gus in that moment!
For the die hard Klune fans, this is lower angst than you're used to, and obviously lower steam (did you NOT catch the asexual in the blurb?). So no wookie cry face, and not totally over the top with the humor as TLSH.
This was the perfect blend of TJ. I thoroughly enjoyed the adventure.
Advanced Review Copy
Advanced review copy of
How To Be A Normal Person

provided by

Dreamspinner Press in

exchange for an honest review.