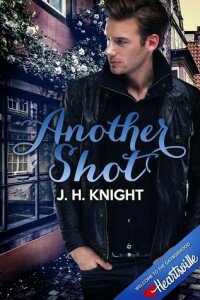 Title: Another Shot
Author: J.H. Knight
Publisher: Piping Hot Books
Release Date: October 28th 2015
Genre(s): Contemporary
Page Count: 81
Reviewed by: Ele
Heat Level: 4 flames out of 5
Rating: 4 stars out of 5
Blurb:

The town of Heartsville means something different to everyone who lives there. For Aaron Forester, it's a gay-friendly buffer between himself and the rest of the world. After being outed in high school and bullied to the point of violence, his family uprooted their lives and relocated to the small hamlet. He's moved on from all that and now owns a popular café in the bustling shopping district. But after twenty years of happy living, Aaron's past creeps up on him in the most unexpected way.

Brad Collins only has one regret and he's carried it with him since he was a teenager. When he moves to Heartsville and gets set up on a blind date with the most adorable, engaging man he's met in a long time, he couldn't be happier. But Brad didn't expect the guy to be the person he outed in high school—who he's now falling in love with.

Aaron and Brad hit it off instantly—in and out of the bedroom. But after a long overdue apology and a small serving of resentment, is their fledgling relationship worth another shot?

This was delightful! I was anxiously waiting for Aaron's story, the owner of the gayborhood's café, and the author did not disappoint.
"Dear Mandy and God of Gay Men, if this guy isn't a serial killer who wants to eat my toes for breakfast, I totally owe ya one."
It all starts with a blind date that Aaron's sister sets up for him. Surprisingly, it is a big success. Brad and Aaron hit it off immediately, they have a lot in common and the sex is amazing. Until….

Until Brad turns out to be the guy who played a major role in outting Aaron back in high school. When Brad realises it he freaks out. When Aaron learns about it he freaks out too. But this is the start of something amazing and thankfully both men realise it can't go to waste.
I know J.H.Knight can do angst and heartbreak, but this is pretty light and actually funny! I especially liked the banter between Aaron and his best friend Justin…
I don't know. I guess I'm just ready for a guy like…."
"You?"
"I guess, yeah. Someone who likes to sit back and watch a good show on the weekend or go for a bike ride by the river and feed the ducks or whatever."
"Oh my God!" Justin stopped on the sidewalk, eyes wide. "I know the perfect person for you."
Curious, Aaron asked, "Who?"
"My grandmother."
"I hate you."
The secondary characters, Mandy, little Amelia, Justin and even Aaron's dad are perfection!
For its short length this is a pretty steamy read. The ending is a very strong HFN that left me warm and fuzzy.
Looking forward to the next stories! It's Adam's turn!

Advanced Review Copy
ARC provided by the
author
in exchange for an honest review.