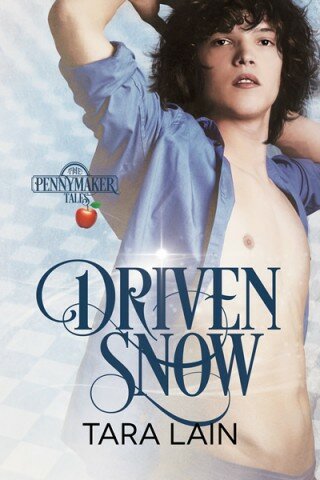 Title: Driven Snow
Series: The Pennymaker Tales, #2
Author: Tara Lain
Publisher:
Release Date: 11/25/2015
Genre(s): Male/male, Fairytale, Coming Out
Page Count: 210
Reviewed by: JLoves2Read for Gay Book Reviews and Alpha Book Club
Heat Level: 4 flames out of 5
Rating: 4 stars out of 5
Blurb:

Young Snowden "Snow" Reynaldi is brilliant, beautiful, and alone. Though he's shy, weird, and tolerated by the NorCal University students because he's a renowned whiz at chess and helps put the school on the map, that doesn't keep him from dreaming of the object of his desires: Riley Prince, championship quarterback.

When Riley needs a physics tutor, Snow jumps at the chance, and their relationship heats up—but Riley has to come out of the jock closet to get anywhere. Meanwhile, Snow's one true friend and mentor, Professor Kingsley, marries a woman who secretly wants the chess tournament glory and money for herself. Soon after, the professor collapses and Snow finds himself underwater—literally. In a car!

Seven frat brothers from Grimm College rescue Snow just in time for his life to get even worse, and Snow discovers the one relationship he always wanted slipping away. With evil looming at every turn, Snow must survive if only to prove he's the fairest of them all and regain the trust of his handsome prince.

This is the second story in Tara Lain's fairy-tale series known as The Pennymaker Tales. The first book was Sinders and Ash which was based on Cinderella and now we have Driven Snow which is a "snow white" style book.
In this book Snowden "Snow" Reynaldi, a college age Grand-master chess player/Physics Major faces the world with the support of his mentor Professor Kingsley. Besides Prof. Kingsley, Snow is alone in the world and stays to himself. Riley Prince, star quarterback of Northern California University is drawn to Snowden and the two are brought together when Snowden tutors Riley in physics. Although Snow has long had a crush on Riley he thought it was to forever remain fruitless as Riley is straight. Right? Snow soon finds out that Riley not only isn't straight but he has a huge crush on Snow. Snow and Riley quickly fall into a passionate affair; however, when Snow faces adversity the strength of their bond is tested. All fairy-tales need a villain, and in this story we have the evil queen who is Anitra Popescu. Anitra has seduced Mr. Kingsley with the hopes of overthrowing Snowden in the Anderson Tournament for Chess. However, just like each fairy-tale needs a villain we also need a fairy-godfather, which is of course Mr. Pennymaker. Mr. Pennymaker shows up just in time to help Snowden when everyone else has lost faith in him.
I loved Snowden Reynaldi. He just cracked me up. Anyone who can carry on an entire conversation in their head including arguing with themselves is my kind of character! Snow will have you laughing as you watch him experience things for the first time. Riley on the other hand, yeah he was not my favorite character there for a while, in-fact I still am not sure he is good enough for Snow. But Alas, it is a fairy-tale so it only makes sense that Snow gets his Prince. I enjoyed the parallel writing style that Tara Lain used mirroring the well-known fairy-tale yet making the story unique enough that readers can understand and enjoy even if they have never read the fairy-tale. This was a fun read that I would recommend to those who enjoy lighthearted romance. Although this book is book 2 in a series, you do not have to read these books in order to enjoy them. Overall, this is a wonderful book and I can't wait to see if Tara Lain continues the series and what fairy-tale she will mirror next.

Author Link GoodReads

Advanced Review Copy
ARC provided by author in exchange of an honest review