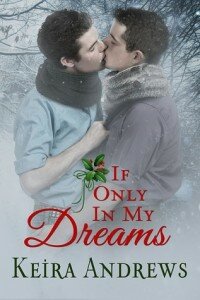 Title: If Only in My Dreams
Author: Keira Andrews
Publisher: KA Books/ Self Published
Release Date: November 19th 2015
Genre(s): Contemporary, New Adult
Page Count: 140
Reviewed by: Ele
Heat Level: 4 flames out of 5
Rating: 4.6 stars out of 5
Blurb:

To be home for Christmas, they must bridge the distance between them.

Charlie Yates is desperate. It's almost Christmas and his flight home from college has been delayed. For days. Charlie promised his little sister Ava he'd be home for her first holiday season since going into remission from leukemia. Now he's stuck on the opposite coast and someone else grabbed the last rental car. Someone he hasn't even spoken to in four years. Someone who broke his heart.

Gavin Bloomberg's childhood friendship with Charlie ended overnight after a day of stolen kisses. With years of resentment between them, they don't want to be in the same room together, let alone a car. But for Ava's sake, Gavin agrees to share the rental and drive across the country together.

As they face unexpected bumps along the road, can Charlie and Gavin pave the way to a future together?
"There was no way— no effing way!— Gavin Bloomberg and I could drive to Connecticut together. It was impossible. It was unthinkable. It was the worst idea ever.
But fuck me. It was my shot."

A road trip through Snowmageddon, two boys that used to be friends, a second chance at love and many sexy times.
This was one of the best holiday stories ever and it incorporates so many favorite themes. Enemies to lovers, second chance love, comfort-healing and a cross country road trip through a snowstorm! Yes, it's the ultimate Christmas story!
Charlie needs to be back at home for Christmas. He promised his little sister who's in remission from leukemia. Gavin got to the last rental car first and if Charlie wants to keep his promise, he 'll have to tag along.
While being trapped in the same car for days, many feelings resurface. Bitterness , pent up anger for what happened 4 years ago, regret and longing for what could have been. But most of all, a burning desire for each other, love and forgiveness.
The dual POV worked amazing. Despite the fact that both of them are pretty young, their voice has the maturity of a person that has been through enough. As much as I loved Charlie, Gavin's honesty and the way he opened up to Charlie, stole my heart.
"I'd finally revealed the deep, dark real me— the man that even Candace never knew. I wasn't a boy anymore, and I trusted Charlie completely with my truth."
And about the sexy times. Don't let their young age fool you. I expected a little smut but what I got was …

Multiple times. It was delicious. Charlie has a filthy mouth on him and Gavin is a virgin and so eager…you get the picture.
Keira Andrews has really wowed me with her latest work. Highly recommended!
Advanced Review Copy
ARC provided by the
author
in exchange for an honest review.