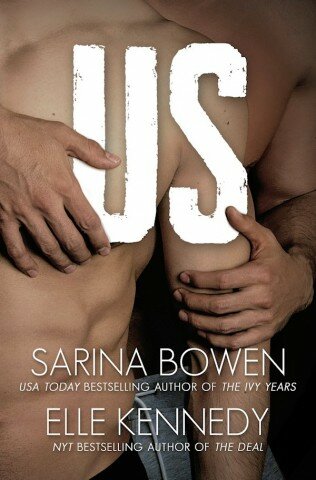 Title: Us (Him, #2)
Author: Sarina Bowen and Elle Kennedy
Publisher: Rennie Road Books
Release Date: March 8, 2016
Genre(s): Contemporary/Hockey Romance
Page Count: n/a
Reviewed by: Gigi
Heat Level: 4 stars out of 5
Rating: 4 stars out of 5
Blurb:
Can your favorite hockey players finish their first season together undefeated?

Five months in, NHL forward Ryan Wesley is having a record-breaking rookie season. He's living his dream of playing pro hockey and coming home every night to the man he loves–Jamie Canning, his longtime best friend turned boyfriend. There's just one problem: the most important relationship of his life is one he needs to keep hidden, or else face a media storm that will eclipse his success on the ice.

Jamie loves Wes. He really, truly does. But hiding sucks. It's not the life Jamie envisioned for himself, and the strain of keeping their secret is taking its toll. It doesn't help that his new job isn't going as smoothly as he'd hoped, but he knows he can power through it as long as he has Wes. At least apartment 10B is their retreat, where they can always be themselves.

Or can they? When Wes's noisiest teammate moves in upstairs, the threads of their carefully woven lie begin to unravel. With the outside world determined to take its best shot at them, can Wes and Jamie develop major-league relationship skills on the fly?

Warning: contains sexual situations, a vibrating chair, long-distance sexytimes, and proof that hockey players look hot in any shade of green.

I was so excited to hear that Elle Kennedy and Sarina Bowen were giving Wes and Jaime a sequel! Him was a 5 star book for me, has a 4.36 average rating on GoodReads with over 7k ratings, a with over 400 reviewers and came in at #3 for our Reader's Choice Awards for 2015. It's just an absolutely outstanding story. And it's also a pretty tough act to follow.
We enter the sequel 6 months after the end of . Jaime is coaching a hockey team of promising teens and Wes is playing in the NHL. They still live in their condo together but their busy schedules keep them apart more than they are together.

Not all is roses and sunshine for our boys. Wes and Jaime and both in the closet at work and publicly. They both feel coming out will damage Wes's rookie career. This makes their personal lives miserable since they can't go out and be themselves and they have to carefully censor their words to their friends and co-workers. The sex is still hot, but their situation clouds the joy felt in the first book. Wes and Jaime start to tip-toe around one another and the angst comes to a boiling point that is resolved in a spectacular HEA.

I liked this book. I absolutely LOVE Wes and Jaime and was happy to have a sequel. But be prepared for some angst and depression. While the two men love each other and always treat each other with love, respect and admiration, the boys get sulky and close themselves off to each other and that put a bit of a damper on my enjoyment. I would have preferred some emotional anger and a good fight to the depression and hopelessness. But that's just me. These boys could have played Parcheesi for the entire book and I would still have loved it and recommended it. Depressed Wes and Jaime is preferable to no Wes and Jaime.
Nice follow-up but failed to capture the excitement and passion of the first book. I am still recommending this book to the many, many fans of the first.

 Amazon Global Author Link Author Link GoodReads More Author Reviews

Advanced Review Copy
Galley copy of provided by the authors in exchange of an honest review.