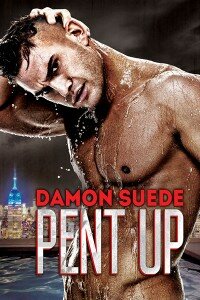 Title: Pent Up
Author: Damon Suede
Publisher: Dreamspinner Press
Release Date: November 20th, 2015
Genre(s): Contemporary Romantic Suspense
Page Count: 290
Reviewed by: Otila
Heat Level: 4 flames out of 5
Rating: 2 stars out of 5
Blurb:

PENT UP: Mix business with pleasure and take cover.

Ruben Oso moves to Manhattan to start his life over as a low-rent bodyguard and stumbles into a gig in a swanky Park Avenue penthouse. What begins as executive protection turns personal working for a debonair zillionaire who makes Ruben question everything about himself.

Watching over financial hotshot Andy Bauer puts Ruben in an impossible position. He knows zero about shady trading and his cocky boss lives barricaded in a glass tower with wall-to-wall secrets and hot-and-cold-running paranoia. Can the danger be real? Is Andy for real?

What's a bullet catcher to do? Ruben knows his emotions are out of control even as he races to untangle a high-priced conspiracy and his crazy feelings before somebody gets dead. If his suspicions are right, Andy will pay a price neither can afford, and Ruben may discover there's no way to guard a heart.

I really thought this was going to be a homerun for me. I mean, what's not to love? A Latino MC, a bodyguard falling for his boss, kidnapping, violence… I should've loved it. Unfortunately, it didn't work for me.
Ruben was an interesting character. He's a Latino who's not in touch with his Colombian roots and doesn't speak a word of Spanish. His parents wanted him and his siblings to be strictly "American". I have to admit as a Latina this bothered me but I also understand it. I know plenty of people who are like that. Hell, I'm related to people who are like that. His low self-esteem started to grate on me though. For the first 50% of the book, it got really repetitive. It was pretty much Ruben thinking Andy was hot but that he shouldn't think that because he's too straight, too brown, too thug-looking, to poor, from the wrong side of the tracks… Rinse. Repeat. It got boring because nothing else happened. There was no progress in the storyline or the romance.
It wasn't until after the 50% mark that it started to get interesting. The UST was good and when Ruben and Andy finally hit the sheets they burned them up. I liked that their first time together was awkward and funny but still really hot. This is Ruben's first time with a guy so it was refreshing that he wasn't automatically an expert in bed. Aside from the great chemistry in bed though, I didn't see why these two wanted to be together. I don't know why they fell in love. The bodyguard storyline also left me unsatisfied. The resolution was anticlimactic and bit ridiculous.
I was also confused most of the time. Not with the plot but with the writing. I kept having to go back and reread entire paragraphs because it felt like I was skipping parts of the conversation or dropping the thread somewhere. The rereads didn't help. The writing wasn't flowing smoothly for me.
I always mention when a book has some Spanish and it's used and/or spelled incorrectly since it tends to happen so often. So I appreciate the fact that it was all correct in this book. It felt a little off sometimes though, like it was too formal or too Spanish (as in from Spain) and mixed words and sayings from different latin american countries. Since most of the Spanish is coming from Andy I think it may be on purpose.
So mostly this book just left me really disappointed. Maybe I had set my expectations too high after having loved Hot Head and Bad Idea. There are lots of great positive reviews for this book so this is probably just a case of "it's not you, it's me."

Author Link GoodReads

Advanced Review Copy
Copy provided by in exchange for an honest review.