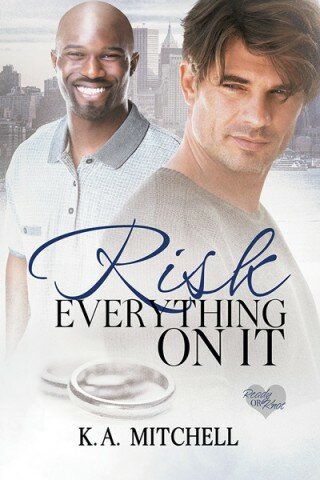 Title: Risk Everything on It (Ready or Knot #2)
Author: K.A. Mitchell
Publisher: Dreamspinner Publishing
Release Date: January 8, 2016
Genre(s): Contemporary
Page Count: 234
Reviewed by: Gigi
Heat Level: 5 flames out of 5
Rating: 1.5 stars out of 5
Blurb:

Former child star and deeply closeted adult actor Jax Conlon needs a boost to his flagging career. He promised his mom, just before she died. He hopes he's found it in a guest spot with the latest directorial prodigy, but his research for the role gets derailed by an encounter with a handsome stranger with more… hands-on experience.

Oz Parsons is a devoted dad to two amazing little girls. Maybe a little too devoted—he hasn't had anything resembling a personal life since his ex left, leaving Oz and the girls with broken hearts and abandonment issues. So a hookup with a hot guy is just what he needs to let off some pent-up steam without any complications. There's something about Jax, though, that's got him finding reasons to draw things out.

With their goals and families pulling them in two different directions, Oz and Jax have to figure if white-hot chemistry and desire that won't quit is enough to roll the dice and risk now on forever.
It pains me to no end to tell you I did not like this book. I confess to being fangirl-stupid when it comes to K.A. Mitchell's books (a screenshot of my K.A. Mitchell GoodReads page will attest to that) but GAH! I never warmed to either main characters. And I loved the first book in the series about Theo and Kieran Put a Ring on It! So, I've got a major case of the sads.

Main character Oz was incredibly selfish and Jax was whiny and utterly unlikable. Plus, there were just way, way too many people's names and relationships to learn. I already knew about the college friends from book 1, Theo, Gideon, Jax and Dean, but we meet all of Oz's friends and relatives and their kids, plus Oz's kids. And then we have Dean's boyfriend, whose name I can't ever remember now, and the weird situation of Dean having sex with Gideon AND his boyfriend, not as a fun threesome, but in open relationship kind of way. *sad face* I almost started a spreadsheet to keep everyone in order, but eventually decided not to because the book was already starting to go downhill for me.
I have to say, the timeline confused the hell out of me. It took me awhile to realize it was running concurrently with the first book. There was a reference to Theo and his "new" boyfriend, and I'm all HELL NO! They already had their HEA! But it turned out Theo's new boyfriend was Kieran. I kinda panicked, so you need to know going in that the timelines for books 1 and 2 are intertwined.
As I said, I found Oz to be selfish but he was also crude and kind of a jerk. His inner monologue:
Oz never felt the urge to grab his keys and hit the door. In fact, another go-round with this pretty boy and his hot ass sounded damned good. It wasn't as if an opportunity like this was going to fall in Oz's lap again anytime soon.
Spoiler tag of the next part.
Spoiler

It wasn't until 60% that Oz finally found out Jax' last name! And, get this, they had been bare-backing since their second hookup. Worse? Oz found out that Jax was an actor, also at 60%, and before that he thought Jax was probably a porn star. Bare-backing! With a porn star! *shakes head*
Oz is a black man and there was one scene in particular I found downright inappropriate on Jax' part.
He's heard lots of black men who had sex with other men didn't even identify as gay. That lots of them loved straight lives, complete with wife and kinds, then met guys for sex.

That certainly sounds like a "on the down-low" stereotype to me.
Last, but certainly not least, you have never, ever heard me complain about too much sex in a book. But here, it was so over-the-top I found myself skipping many of sex scenes. Just. Too. Much.
I wish I could recommend everything the fabulous K.A. Mitchell writes. She is one of my absolute favorites, but this one just rubbed me the wrong way in so, so many ways. It does bring me a small amount of satisfaction to tell you the HEA was beautiful and both men finally got their shit together, but by then it was too late for me.
Cannot recommended.
Special shout out to my fellow Jack O'Neill fans and the perfection that is Window of Opportunity.

 Author Link GoodReads

Advanced Review Copy
Advanced review copy of provided by in exchange for an honest review.