Many thanks to Annabeth Albert and Harper Collins for sharing the beautiful cover of the upcoming book Beta Test (#gaymers #2) with us! Beta Test will be released on May 30, 2016 by Carina Press.
Blurb
Ravi Tandel is ahead of the game. He's a top video game developer and he just got asked to present a top-secret project at a huge gaming conference in Seattle. All systems are a go…until he learns his office nemesis is coming along for the ride. Player vs. Player. Fight!

Newly minted MBA Tristan Jones doesn't seem like the gaming type but he knows the business inside-out. Together, they'll give an awesome presentation – they just have to survive the cross-country trip. Ravi's opinion of Tristan is rebooted when he discovers a softer side to the conservative charmer and a new tension builds between them.

Despite their best efforts to keep it casual, things heat up quickly. Tristan is hiding his true self for fear of what his parents might think. Ravi knows that feeling all too well, but he didn't disconnect from his family years ago only to hide who he is now. To be together, Tristan has to push past his fear and ultimately decide, does he want a future with Ravi? Or is it game over?

Book Two of the #gaymers series.
The Cover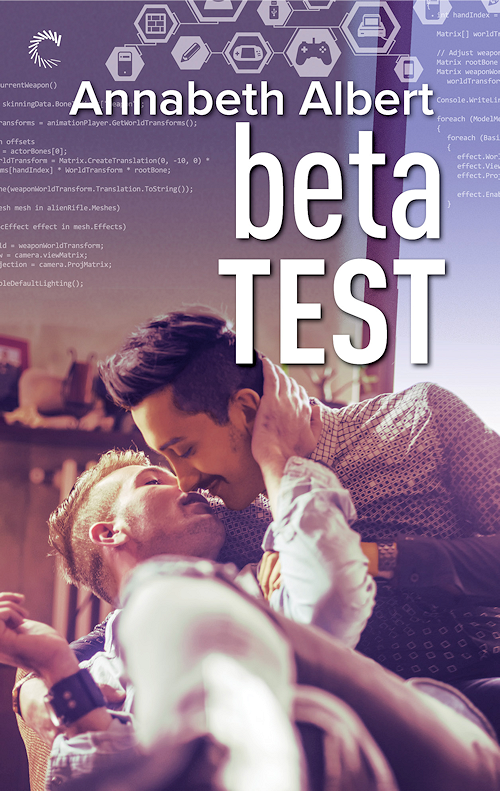 Buy Links
Amazon.com  GoodReads Kobo B & N
Status Update (#gaymers #1) Reviews
Belen's Review Lili's Review Renee's Review
Praise for Status Update (#gaymers #1)
Like all of Ms. Albert's books, this book was a perfect mix of sweet, angst, and sexy. She always manages to make me feel what her characters are feeling. I hurt when they hurt and I'm happy when they are. Her character's feeling feel real. She just nailed this one- this book had it all.
This story literally checked off every button I have for a romance story. Fun, funny, hot, sexy, great plot…good cast of characters…everything.
Ms. Albert has done it again. She tells what seems to be an epic love story but is just two men who fell in love. She's so very talented, and I get giddy when I see a new release coming our way from her. Highly recommend!
Author Bio
Annabeth Albert grew up sneaking romance novels under the bed covers. Now, she devours all subgenres of romance out in the open—no flashlights required! When she's not adding to her keeper shelf, she's a multi-published Pacific Northwest romance writer.

Emotionally complex, sexy, and funny stories are her favorites both to read and to write. Annabeth loves finding happy endings for a variety of pairings and is a passionate gay rights supporter. In between searching out dark heroes to redeem, she works a rewarding day job and wrangles two toddlers.