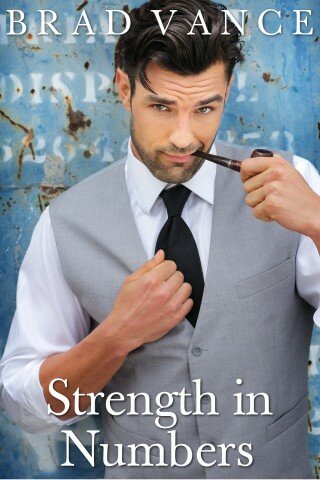 Title: Strength in Numbers (Game Players #2)
Author: Brad Vance
Publisher: Self-Published
Release Date: February 10, 2016
Genre(s): M/M Contemporary
Page Count:
Reviewed by: Crabbypatty
Heat Level: 5 flames out of 5
Rating: 5 stars out of 5
Blurb:

They're back! In their first adventure, Marc Julian, software billionaire, and Jesse Winchester, hacker extraordinaire, survived the evil plans of the Krom brothers and Jesse's first lover, Chip. But Jesse has old debts to pay to Russian gangster Leonid Ivanov. Now Leonid is calling in those debts, demanding that Jesse find a great treasure for him, and a new game is set in motion…

The mysterious "Satoshi," creator of the cybercurrency Bitcoin, has been hiding $375 million worth of the currency for years. But now, he has chosen to start a quest for the keys to the Hoard, and he who controls the keys controls the fortune. And this will be a quest that will test the strength, the will, and the character of those who pursue it.

But Marc and Jesse aren't the only ones on the hunt, as old enemies resurface to try and beat them to the treasure… And even if they reach it first, they must ask themselves – do they really want to give a Russian gangster $375 million to pursue his deadly enterprises? And what would be the consequences if they don't?

The pursuit will take them from Andorra to Barcelona, through the museums of Tokyo, the streets of Buenos Aires, and the coast of Mexico, in a desperate and dangerous race to keep the fortune in digital gold from the hands of all their enemies…

Bitcoins. Cryptography. Satoshi. Haikus. Eidetic Memory. The Hoard. On first glance, digital currency and encrypted data storage and transmission may not seem the most exciting subject for a M/M contemporary romance novel, but …. would I lie to you? …. this book is fantastic. "Strength in Numbers" is #2 in the Game Players series, and is NOT a standalone, so you'll need to read the first book in the series (entitled "Would I Lie to You?") to get up to speed.
Marc and Jesse find themselves on a quest to find the key to a one million bitcoin "wallet" (worth roughly $375 million) as a favor to Leonid, the enigmatic Russian criminal Jesse knew in prison. Their travels take them to Andorra, Barcelona, Tokyo — as well as a heartbreaking detour to Marc's boyhood — and along the way they encounter their nemeses Chip and Walt, as well as Ryan. The plot is engrossing and it is a mark of Vance's mad writing skills that along the way you realize you've learned an awful lot about encryption and code breaking, without feeling you've gotten a lecture.
Marc and Jesse's relationship started as a deliciously slow burn between two smokin' hot MCs, but bursts into flames in this book as they explore their fantasies with some incredibly steamy role playing. (Hello, sailor!) As Jesse ponders at one point — "Few men are happier than the man who's had three orgasms in one day." Indeed.
The book moves along at a good pace, and although the ending brings this quest to a very satisfactory conclusion, their adventures continue in the next book in the series "Game Theory." If you are looking for an intriguing plot, along with two MCs whose kinks and quirks compliment each other in oh so many interesting ways, give the Game Players series a read!

 Amazon Global Author Link GoodReads More Author Reviews

Advanced Review Copy
Galley copy of provided by author in exchange of an honest review.