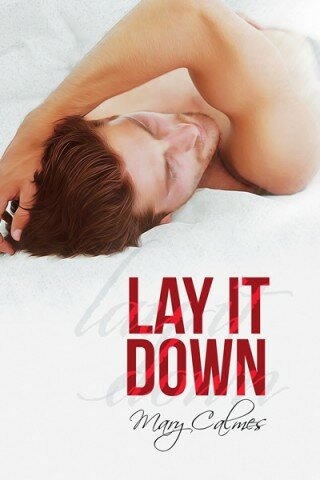 Title: Lay It Down
Author: Mary Calmes
Publisher: Dreamspinner Press
Release Date: March 16th 2016
Genre(s): M/M Contemporary Romance
Page Count: 126 pages
Reviewed by: Belen
Heat Level:  3 flames out of 5
Rating:  4 stars out of 5

Blurb:
Paradise can be hell.

Most people would say being stranded in the villa of Spanish shipping magnate Miguel García Arquero on the beautiful isle of Ibiza wasn't such a bad deal. But Hudson Barber isn't one of them. To him, being stuck without a passport in a foreign country far from home is a nightmare, made worse by the fact that the person who did the stranding was his flighty twin brother.

Unwilling to turn Dalvon in for identity theft, Hudson is forced to wait, but meanwhile he discovers the chance to rehabilitate Miguel's failing local businesses—enterprises left to Dalvon's inexperienced care. The flagging ventures are a badly wrapped gift from heaven, and if Hudson can turn them around, he might be able to leverage the experience to finish his MBA.

Then Miguel returns to Ibiza, and instead of finding a boy toy, he discovers Hudson has turned his cold villa into a warm, welcoming home. Miguel's path is clear: convince Hudson to lay down his defenses and let love in.

This is a short, fast paced novella that hits the ground running from the moment it begins.
Hudson Barber is stranded at his brother's lover's villa in Ibiza and isn't happy about it. One good thing is his brother's lover, Miguel García Arquero, is traveling and won't be home for months.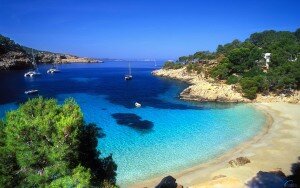 Forced to wait for his passport to be returned to him, because Hudson's unwilling to turn in his twin, Dalvon, who's the one who stole it in the first place, Hudson decides to turn lemons into lemonade by taking over the care of the home and businesses his brother left flagging in Miguel's absence as an "intern" in order to continue school without losing time in the pursuit of his MBA.
When Miguel returns to the villa it's to find his lover gone, but his businesses and home prospering. When he lays eyes on Hudson the sparks fly and the two fall quickly for each other.
Told entirely from Hudson's POV, the reader is immersed in the middle of the action of the story from page one. There's no time for lollygagging – the pace is brisk. I love Mary Calmes' characters, her writing style…it all rings my bells. Once again Mary Calmes delivers an entertaining story with humor and heat.
Look, I'm not even playing. I drank the Kool-Aid a long time ago. I am able to suspend my disbelief very easily when it comes to Calmes' breakneck insta-love, no condoms required love stories that she is famous for…and I LOVE THEM. Lay it Down is no exception.
Recommended.

Author Link GoodReads More Author Reviews

Advanced Review Copy
Galley copy of provided by in exchange of an honest review.