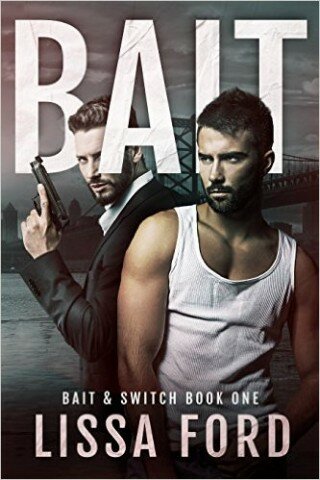 Title: Bait (Bait & Switch #1)
Author: Lissa Ford
Publisher: Lissa Ford Books
Release Date: February 18, 2016
Genre(s): Contemporary / Mystery
Page Count: 259
Reviewed by: Crabbypatty
Heat Level: 3 flames out of 5
Rating: 3.25 stars out of 5
Blurb:

A good boy meets a bad boy. Someone's losing a halo.

FBI special agent Daniel O'Pray is a straight shooter both in and out of bed. But things get a little weird when Danny is tasked to be the bait in a sting involving the owner of Philadelphia's most notorious leather bar. One out-of-control moment with nightclub owner Alexi Romanov throws Danny into a tailspin—sexuality included.

Worse, Romanov is a prime suspect in an extortion ring Danny is investigating. And Danny can't get enough of him.

Danny has spent his life following the rules. So why does breaking them for Alexi feel so damn good? Lines are blurring, putting Danny's career and his life at risk. His heart, well, that's in jeopardy, too.

Danny O'Pray breaths and bleeds blue. His father is a legend in the Philly FBI bureau, his mother ran the cyber division, even his grandmother was a special agent during the Cold War. That time Granny had to go to the hospital for "emergency appendicitis"? Well, turns out she'd been shot by a Cuban national.
When Danny breaks cover during a drug op, he faces either a deck assignment or being bait for a new sting involving Alexi Romanov and his club, Fetish, which may be Ground Zero for a blackmail / extortion ring involving sex trafficking. When Danny meets Alexi, sparks fly and Danny realizes there may be more to life than the FBI and living up to his family's expectations.
Please be aware that the rather intricate plot really drives Bait while the love story between Danny and Alexi comes a distant second, with only two sex scenes (plus a rather awkward lap dance). I felt there wasn't a lot of sizzle between Danny and Alexi, and it didn't help that this is Danny's first sexual experience (other than a teenage kiss).
The suspense / mystery component is nicely done, with some good red herrings and I found myself drawn into the horror of sex trafficking and the desperate lives of the young Russian boys at the center of that horror. The story takes place in the space of a few days and the pace keeps your focus. But while the ending ties everything together, it seemed a bit too hurried, and I wanted a longer final scene between Danny and Alexi, or an epilogue showing them a few months afterwards and how their relationship had grown and developed.
If you read this book as a crime procedural with a M/M element, rather than a M/M romance in a law enforcement setting, you'll enjoy it. But if you are expecting some so very steamy sexy scenes similar to Ford's Doubleback series, you may be disappointed.

 Amazon Global Author Link GoodReads More Author Reviews

Advanced Review Copy
Galley copy of provided by
the author
in exchange of an honest review.