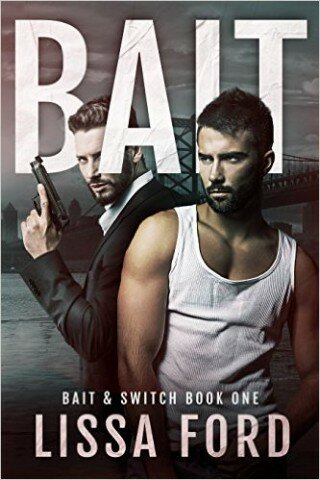 Title: Bait (Bait & Switch #1)
Author: Lissa Ford
Publisher: Self published
Release Date: February 18th 2016
Genre(s): Contemporary
Page Count: 259
Reviewed by: Ele
Heat Level: 3 flames out of 5
Rating: 3.5 stars out of 5
Blurb:

A good boy meets a bad boy. Someone's losing a halo.

FBI special agent Daniel O'Pray is a straight shooter both in and out of bed. But things get a little weird when Danny is tasked to be the bait in a sting involving the owner of Philadelphia's most notorious leather bar. One out-of-control moment with nightclub owner Alexi Romanov throws Danny into a tailspin—sexuality included.

Worse, Romanov is a prime suspect in an extortion ring Danny is investigating. And Danny can't get enough of him.

Danny has spent his life following the rules. So why does breaking them for Alexi feel so damn good? Lines are blurring, putting Danny's career and his life at risk. His heart, well, that's in jeopardy, too.
This would have been a solid 4-4.5 star book for me, had it been more focused on the romance. It is a relatively long story and the mystery is very well done, but there wasn't enough interaction between the characters and the romance was pushed aside sometimes, in favor of the action/suspense plot.
That being said, Lissa Ford's characters are always incredibly well sketched, and the MCs in Bait & Switch are no exception. Dan is an FBI agent who falls in love with Alexi, a prime suspect in the case he's working on. I loved that Dan was an imperfect hero. He's not the greatest agent out there; he makes mistakes and acts with too much emotion. He is human and real.
Dan has never been with another man before. I absolutely loved the way his journey to self acceptance was portrayed. Dan knows he is attracted to men. First, it's curiosity and "…some dark awareness— panic". Then, it's anticipation, mixed with denial. And then he's ready to explore, to touch and be touched. And eventually, accept himself and the fact that he loves this man. And whe he does….he's all in!
The mystery is top notch, based on real events and well-researched with a very unexpected twist towards the end. I really didn't see it coming, which is always a great surprise. The action bits are very well described and detailed too.
The only thing that was missing was more romance and interaction between the characters. It's a shame because the chemistry between them was amazing and the couple of steamy scenes were pretty hot. And I know that Lissa Ford can really do romance and steam! Doubleback and Doubledown prove that.
I hope this is a series and we 'll get the chance to see more of Dan and Alexi in the future. I'd read a sequel about these two in a heartbeat.

 Amazon Global Author Link GoodReads More Author Reviews

Advanced Review Copy
Galley copy of provided by
the author
in exchange of an honest review.