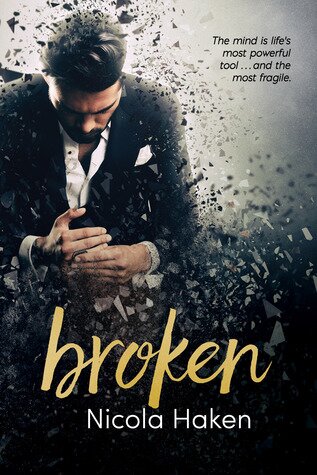 Title: Broken
Author: Nicola Haken
Publisher: Self-published
Release Date: February 29th 2016
Genre(s): Contemporary
Page Count: 287
Reviewed by: Vallie
Heat Level: 4 flames out of 5
Rating: 5+ stars out of 5



Blurb:
When Theodore Davenport decides to switch his mundane job for a career, he walks into Holden House Publishing with enthusiasm and determination to succeed. As he settles into his new role, makes new friends, and dreams of making it to the top, everything is going to plan.

Until he meets James Holden, CEO of Holden House.

James Holden hasn't been able to stop thinking about his encounter with the timid man he met in a club bathroom last week, and when he discovers the one haunting his dreams is an employee, he can't seem to stop himself from pursuing him.

Just a little fun – that's what James tells himself. He can't afford to care for someone who can never reciprocate, not once they find out who he really is. James believes nobody deserves the burden of being attached to him. He's a complicated man. Damaged. Difficult. Demanding.

Broken.

Is Theodore strong enough to confront James' demons? More importantly, is James?

(M/M romance. Not suitable for readers under 18 years of age due to language and sexual content. ***Please note*** This book contains scenes of self harm, mental illness and suicidal ideation which may pose as a trigger, or be uncomfortable for some readers.)

I AM COMPLETELY BLOWN AWAY. 5+ STARS!
New-to-me author Nicola Haken nailed this one so hard, I dread picking up a book after this. So, this starts out as a sort-of office romance set in Manchester. Let me say here how much I loved that the story was not boxed in to the office romance theme but was organically developed to cover several aspects of the characters' lives. Theo has a one-night stand with a hot guy who ends up being none other than the CEO of the publishing house Theo just started working for. James, the CEO, comes off as quite the @$$hole in the beginning. He wears arrogance like second skin and does not even blink an eye at being a condescending prick. But for some reason, Theo gets James' attention. So James is pleasant. He is pretty cocky and aloof, but tries to get Theo to like him and…courts him almost. Theo is pretty resentful in the beginning but being so attracted to James, it doesn't take long for their relationship to take off. The sexual attraction and chemistry is scorching, accompanied by sharp, witty writing. For those who are not comfortable with British slang, or don't particularly like it, don't worry, it's not heavy on it at all.
Now for the hard part. It is hinted in the beginning that James' has a dark side. He seems very put-together when it comes to managing the company, but his personal life is pretty non-existent, with the exception of his never-ending one-night stands. As we get to know James, (the story is told in dual POV, present tense), more and more is revealed about his personal issues.
If you find it difficult to read about characters with mental health issues, namely severe depressive episodes and suicidal ideation/attempts, do not read this book. It may pose a major trigger for you. If not, jump on the hurt/comfort band wagon, because this ride was outstanding.
As a mental health professional working in the UK, I applaud the author for the level of authenticity she gave to this story. It is not easy to depict a mental health illness with the elegance and sensitivity this author managed to bring. I am absolutely floored by how realistic it all was. Not just the illness itself –spend an afternoon on WebMD or some psych.org site and anyone can list symptoms and diagnoses. This went far beyond that. It was about how James felt at different stages of his illness. It was about how he internalised his symptoms and how those affected his entire thought process, including his relationship with his family and Theo. It was about how Theo reacted to learning about James' illness and his very reasonable questions about how to handle it and what to do. And of course, when everything went to shit, it was about the very detailed depictions of the ugly parts of mental illness, how it hurts the sufferer along with the family. Even the legalese was all right to the T, including institutionalization scenes and parts of therapy sessions.
I realize the content of the book is harsh and does not exactly make for light reading. But it succeeds in presenting a very real situation without sensationalizing it, while shedding light to it in an optimistic way. There's no cure by magical dick and there's no "love cures all" nonsense. There is pain and the hard truth that for this couple, life will be difficult perhaps more often than one would hope. But ultimately, they can be happy, and people like James can live fulfilling lives with great support systems around them. And I think that's an important message for any genre to promote. At the end of the day, this book is a romance. It might be dealing with a very challenging illness, but it does so in an emotional, careful way. The pain that James feel emanates from the page and I felt it along with him. So, even if mental health issues in your mm is not your crack, this book is all about unconditional love and acceptance and plain loving someone not despite of who they are but because of it.
I highly recommend this to fans of mm romance. Just make sure to heed the trigger warnings. No joke. This is one of my favourite books of 2016 for sure.

 Amazon Global Author Link GoodReads More Author Reviews

Advanced Review Copy
Galley copy of provided by
the author
in exchange of an honest review.