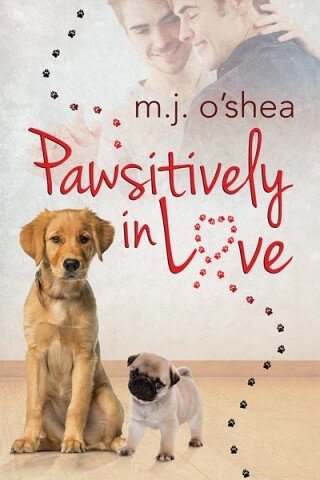 Title: Pawsitively in Love
Author: M.J. O'Shea
Publisher: Dreamspinner Press
Release Date: March 4th 2016
Genre(s): Contemporary Romance
Page Count: 200 pages
Reviewed by: Vallie
Heat Level: 3 flames out of 5
Rating: 2.6 stars out of 5
Blurb:
What Austin Lloyd lacks in academics, he makes up for in his love of the animals who frequent his pet salon. He's not lucky in romance, though, and his family would like him to settle down with a good man. Austin—and his golden retriever, Maggie—couldn't agree more.

Evan Partridge isn't good at letting people in. His messy family life and the past that's shaped him aren't worth bringing up. But his pug, Dexter, sure likes the pet salon owner.

Austin and Evan get off to a rough start, but being friends soon turns into something more. Unfortunately, Evan's secretive behavior nearly does the relationship in, and the budding love affair almost crashes and burns when Evan's troubled sister shows up on his doorstep.

Not speaking to each other is killing them both, but Evan doesn't know how to keep Austin and help his sister at the same time. He just knows he has to try. Winning back Austin's trust back, however, is going to take a whole lot of work.
Ugh, why book, whyyyyyyy???? We were getting along so weeeeeell!
Insert ugly cry face here, because this book frustrated me to no end. I was having so much fun, reading along and enjoying the budding relationship between Evan and Austin, and then bam! Everything went haywire. Again, whyyyyyyyyyy????
So Austin was having a relatively difficult day at his pet salon –damn you Annabelle, when in walked Evan. Hot hot hot Evan, who was late to pick up his lovely baby pug, Dexter. Let's just say the first, or second encounter Austin and Evan had was far from ideal. But they became friends and started hanging out with Austin's group, including Austin's hilarious twin, Mary Beth. Evan was a flirt, even though he didn't quite realize it, and poor Austin was falling hard. But Evan was all "I don't do dating. I'm no good at it. Let's remain platonic." And so it went. For 60% of the book. Mind you, it was a fun 60%. There were beach sports, walks with the adorable puppies, family dinners, and outings with friends. Me likes. Plenty. There was some issue with Evan's sister, Della, whose phone calls sort of prophesied the epic disaster that followed, but it remained mainly in the background, conveniently forgotten when there were kisses and puppies and all that lurve. The sexual chemistry was there, but don't expect much in terms of sex scenes.
And then there was a shit storm like no other. Shall I list the fuck ups here?
1. Della shows up. Della hates the fucking world. Della naturally hates Austin. No more kisses or puppies or lurve.

2. Plot holes. Evan's only friend mentioned on page is Betty the neighbour, with the adorable Scout and her husband. All of sudden, Evan is out in the club with "a group of friends from the gym" WTF? They were never mentioned again and Evan stated later on that he has no friends like the gym buddies had never existed.

3. Della's "mental illness." EPIC FAIL. I couldn't decide if she was just meant to be unlikable or mentally ill, because all that came off was that Della was angry, malicious, lazy, and a major-ass attention seeker. But then, Evan mentioned things like "I don't know what her diagnosis is," and "she doesn't want to go to therapy" and I didn't know what I was supposed to be convinced of. If she was meant to have a mental illness, the portrayal was horrible. If she was meant to just be unlikable (I really don't see how, the girl cannot function in a social environment!), it was very OTT.

4. Everything was solved magically. Evan grew some balls, lay down the law, and the book ended with the reader being told that now everything will be fine, even though none of the things Evan decided would be fixed had actually been fixed yet.
Soooooooo. I was very disappointed by the end, mainly because I was really enjoying this book for a good 2/3 of it, only to have the rug swept under my feet. I felt cheated out of my good reading experience.
Cannot recommend

 Amazon Global Author Link GoodReads More Author Reviews

Advanced Review Copy
ARC kindly provided by to Gay Book Reviews for an honest review.