Title: Love Can't Conquer (Love Can't Series, #1)
Author: Kim Fielding
Publisher: Dreamspinner Press
Release Date: June 3, 2016
Genre(s): Contemporary
Page Length: 260 pages
Reviewed by: Renée
Heat Level:  3 flames out of 5
Rating:  3.5 stars out of 5
Blurb:
Bullied as a child in small-town Kansas, Jeremy Cox ultimately escaped to Portland, Oregon. Now in his forties, he's an urban park ranger who does his best to rescue runaways and other street people. His ex-boyfriend, Donny—lost to drinking and drugs six years earlier—appears on his doorstep and inadvertently drags Jeremy into danger. As if dealing with Donny's issues doesn't cause enough turmoil, Jeremy meets a fascinating but enigmatic man who carries more than his fair share of problems.

Qayin Hill has almost nothing but skeletons in his closet and demons in his head. A former addict who struggles with anxiety and depression, Qay doesn't know which of his secrets to reveal to Jeremy—or how to react when Jeremy wants to save him from himself.

Despite the pasts that continue to haunt them, Jeremy and Qay find passion, friendship, and a tentative hope for the future. Now they need to decide whether love is truly a powerful thing or if, despite the old adage, love can't conquer all.
I just rated a Kim Fielding book 3.5 stars. You need to know that I'm literally cringing while looking at that number, cuz…….KIM FIELDING! I've pretty much adored everything I've read by her.
This was about MY issues though. The writing is as superb as ever. But I wasn't aware that the story would have the pet peeves of mine that it did. And I can't ignore those…..I just can't.
Readers need to pay close attention to the title. It not only gives you a glimpse into the theme, which I knew going in, but it also gives the overlying mood of the entire book. No subtlety about it.
The first three-quarters are somber, but still quite compelling. Fielding is a master, and I couldn't put it down, just waiting for the happy that was building with every page. Jeremy and Qay seem so perfectly matched and compatible. And it was breathtaking to watch Qay finally have something to believe in. He was a phoenix for the first time in his life.
And then the last quarter happened. Was it realistic? Absolutely. Was there anything GOOD about it? Nope.
Some of this:

And some of this: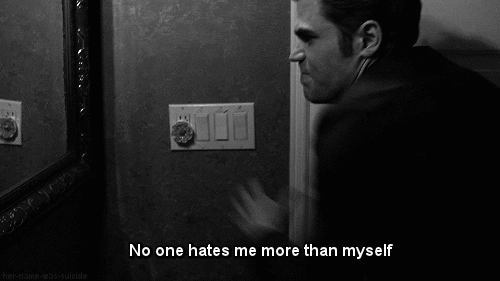 And more of this:

Add in some doormat behavior, and I was really aggravated. It was also very heavy on the theme of addiction. Is there an eventual HEA? Yes, but it was about 0.05% of my reading experience. Not nearly enough to bring me back from the mood of the book.
So now I'm just drained and morose.

If it wasn't for Fielding's writing, this would've been 2.5-3 stars for me. It's a beautiful story with amazing writing. I just can't with the heavy addiction and such a heavy MOOD throughout the whole thing. I read mm to escape and get some happy. Not fluff, mind you, but I need a solid HEA after the angst. There was just too much angst. Nothing that will have you crying……..just a steady bleakness that hangs over the reading experience. Matching the Portland setting's weather exactly.
The author accomplished exactly what she was trying to do, in my opinion. Kudos to her for that. I just probably won't continue with this series with this type of recurring theme. I want to put my head in the oven.
Author Link
GoodReads
More Author Reviews
Advanced Review Copy
Advanced review copy of Love Can't Conquer provided by Dreamspinner Press in exchange for an honest review.