Title:
Author: Theo Fenraven
Cover Artist: Maria Fanning
Publisher:
Amazon:  Blue River,
Genre: Time Travel/Historical M/M Romance
Length: Novella/92 pages
Rating: 5 stars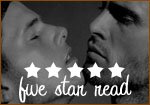 A Guest Review by Sammy
Review Summary:  What would you risk for love if you had the chance?
Blurb: Photography genius Ethan Mars is out and living the fast life in Los Angeles until a mysterious mist in Topanga Canyon sends him back in time. There he meets Quinn Parker, a farmer who has hidden his homosexuality from everyone, even Margaret, his fiancée. Falling in love is the last thing Ethan expects, and the last thing Quinn can allow—in 1863, being gay can get him killed. When Ethan is unexpectedly offered a way home, he faces an impossible decision: go back… or stay?
Review: A step out of time… A slightly cynical and jaded artist carries his camera with him into the year 1863 and captures more than just images on his memory card. Ethan meets Quinn who is trapped in a life that will demand his very soul and with it any chance for these two men to have something more than friendship.
1863. Ethan steps though a misty fog and into the past. There he is met by a brother and sister team who know where he comes from although they don't fully understand how. They do know there has been a previous visitor–the one that Ethan had heard about and humorously dismissed as unbelievable. In fact, Ethan had gone along on the trip with his buddy to see "the fog" just as a lark. Then he accidentally got trapped within it and ended up at Blue River.
Over the next nine days, Ethan will live in a way that few ever experience. Rustic charm aside, life in 1863 was hard, backbreaking work and eking out a season to season existence farming the land. Quinn and his sister Hes are not strangers to rising early and breaking a sweat but Ethan surely is and that is a source of scorn for Hes and sympathy from Quinn.
It is Quinn's sweet reserve that first draws Ethan beyond his outer good looks. The idea that Quinn hides the secret that he is attracted to men only triggers more lust in Ethan. But when Ethan begins to weigh all that Quinn will give up in order to do his "duty" and marry a girl from the neighboring farm, he realizes the depth to which Quinn will lose his own humanity. Slowly but surely Ethan falls further and further into Quinn's world as Quinn falls straight into Ethan's arms. But the fog has reappeared and that is Ethan's ticket home…to a place without Quinn, without love.
What a smartly written novella! Author Theo Fenraven keeps his characters grounded throughout this story, never allowing Ethan to go the easy route of "insta-love" but rather always wary of it and of his emotions. Without sacrificing his plot, Mr. Fenraven manages to cast a contemporary take on how so many men "hide" in marriages they feel forced to endure, even in this day and age. Carefully, he allows the reader to question how far we have strayed from the much less "toxic" food of the 1800's and how we love our trappings and "things" more than we perhaps should. Don't get me wrong, the author is not passing judgement, rather he floats these ideas to us by weaving them into Ethan's internal dialogue and then allows us to draw our own conclusions.
But the real crux of this novella is the overreaching theme about taking risks and the potential for both success and failure when we do. The author hazards that to love someone we must be willing to put it all on the line, gambling with both our heart and our future. We must be willing to make it work and in doing so have faith that the other person is ready for that as well. Most definitely Quinn makes that decision. He reaches beyond his fear and, yes, guilt and takes a stand, banking on Ethan to be there for him in the end.
I loved the fact that right up to the last word in this story, the author has a shadow of doubt cross Ethan's mind. Would this relationship last especially since none of Ethan's prior ones had? Had Ethan done a terrible wrong in trying to convince Quinn to walk away from his predestined life? I think that made this novella more realistic and made the love that Ethan discovers he has for Quinn easier to understand and believe in, even after such a short time. There was something so fragile about Quinn, so sweet and innocent. The two men together were simply lovely.
If you are a stickler for "historical accuracy" you should take note of the disclaimer on the Dreamspinner website assuring you that this is fiction and may not follow the rules when it comes to time era mores and values. Having said that, just the way in which the author has Ethan compare living with Quinn and Hes to modern day points up many of the living conditions in that time in history. I never felt pulled from the story or disappointed by an "historical inaccuracy". In fact, the plot itself was so compelling that I was focused on how it all played out rather than any other details.
This is my first time reading author Theo Fenraven and I can assure you it will not be my last. I am told this is an expanded version of an original story. Whether you have read it before or not, Blue River is a definite must read in my opinion. I highly recommend it to you!