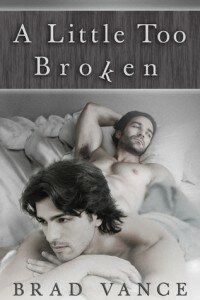 Title: A Little Too Broken
Author: Brad Vance
Publisher: Self Published
Amazon:   A Little Too Broken
Smashwords Link: A Little Too Broken
All Romance Link: A Little Too Broken
Genre: Contemporary Romance
Length: 129 pages
Rating: 3.5 stars out of 5
A Guest Review by Andrea
Review Summary: An interesting and personal view into the daily struggles of a wounded veteran once he return home.
Blurb:
FROM BRAD VANCE, his first full length romance novel…
When Jamie walks through the door of the Humane Society, it's not just an animal who needs rescuing that day. Tom is there to adopt another service dog into the Canine Comrade Corps, but it's Jamie his heart goes out to. But each man turns away, walks away, from the potential pain, the rejection, the knowledge that it'll all end in tears…
Jamie knows damn well that the HIV he contracted from an unfaithful lover has put him out of the dating game forever in the small town of Santa Vera. Tom lost his legs in Afghanistan, and got new ones, yeah, but with a side order of PTSD to go, he thought grimly. The real problem is that only now does he realize he's gay, now that the revelation would be just one too many things to put his family through, after everything else they've had to deal with.
So both men grin and bear the loneliness, put their feelings on a shelf, even as Jamie's volunteer stint at CCC turns into friendship and, despite their resolve, something more…
Review:
A little broken is attractive, but some men are just too broken. Jamie and Tom have learned this lesson through the pitying eyes of others.  Jamie is HIV positive. In Tom's case, he has PTSD and he lost his legs in Afghanistan.  People will offer them their sympathy, conditional support, and thanks for the good work they've done, but they don't want to get any more involved than that.
When Jamie and Tom bump into each other at the Humane Society, it's pure sexual attraction driving them to set up another meeting. They both know that disappointment will be sure to follow, but that spark of interest is just too tempting. As much as they look forward to seeing each other again, they're both expecting polite rejection once their secrets are revealed. The last thing either of them expected was to find someone else who knows exactly how they feel. It's at that point that the attraction becomes an obstacle. They've both long since decided that a "normal" relationship is no longer possible. Their experiences have taught them that supporting and understanding friends are precious.  The last thing either of them wants to do is destroy their friendship because they couldn't control their hormones.
I can't tell you the romance was anything special. It was good, but I wouldn't give it anything more than an average rating. There were parts of it which didn't feel fleshed out. In the beginning, Tom and Jamie were both having some pretty graphic and kinky fantasies. They were hot. Then, when they were having actual sex, it got so much more tame and there were a lot less details. I expected the fantasies to be the build up and the actual sex to be the main event, but in this case I was let down.
What did make this book stand out was seeing what Tom experienced. Like most people, I've never really thought about the day to day life of someone returning from war with a physical or mental illness. The lack of care and support he and his family received was appalling. I was pissed at how quickly the government wanted to rid their hands of him. The last thing someone in his condition should have to do is fight bureaucracy just to get the health care and benefits he was guaranteed!
A Little Too Broken shines a little light onto a problem in America and makes it more personal. Not only that, but the author is donating 10% of the proceeds to the Iraq and Afghanistan Veterans of America charity, which will help real life men and women like Tom.