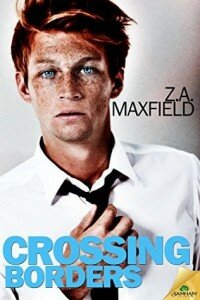 Title: Crossing Borders
Author: Z.A. Maxfield
Publisher: Samhain Publishing, LTD
Release Date: August 4th, 2015
Genre(s): Contemporary
Page Count: 271
Reviewed by: Lili
Heat Level: 5 out of 5
Rating: 4 out of 5 Blurb:
Two dudes walk into a bookstore…

Tristan knows he's got issues. His latest ex-girlfriend knows it too. He can't blame her for dumping him—even though she gets her brother to do it for her. Since he can't stop staring at said brother's package, he figures it's about time to put a label on those issues. He likes guys.

He heads to a local bookstore with what he's sure is a foolproof plan to find someone to show him what he's been missing. But who should crash his little adventure? Officer Michael Truax, who gave him a really expensive ticket back in high school for skateboarding without a helmet.

Michael has been trying to catch Tristan for years…to give him a second ticket. Suddenly faced with "Sparky", all grown up and looking to get laid, Michael's protective instinct kicks in—and presents him with an opportunity that's hard to resist. After all, the kid must know what he's getting into, so why not?

But when a man with a plan connects with a man with a hunger, the result is nothing short of explosive.

Warning: Contains high-octane hair, a clawfoot bathtub, and a story that will make you believe in love at first sight. Okay, second sight, but who's counting?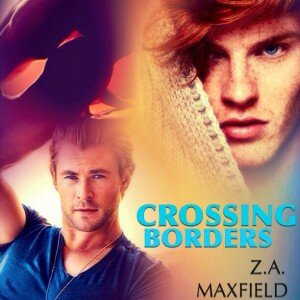 Crossing Borders by ZA Maxfield is an age difference book between a 19 yr old and 27 yr old. The two have had an antagonistic relationship for a couple years after Michael gave Tristan a ticket while skateboarding. The two begin a sexual relationship after running into each other at Borders. Although I enjoyed it a lot, in the end I had a few mixed feelings.
What I loved:
*Tristan. He was my favorite part of the story. Loved his strength, loyalty, and humor.
*Michael. Pretty much for the same reasons I loved Tristan.
*Tristan & Michael together. They had great chemistry.
*Storyline. Loved that it was a story about Tristan coming to terms with his sexuality and Michael being there to guide him- never taking advantage.
*Steam. Off the charts.
*I was happy that for the most part this was a low angst, feel good book.
What I didn't love so much:
*The insta-love. The "L" word was thrown in way too fast. Once that happened, it turned me off a bit. I knew things would move fast- just didn't realize it would be that fast.
*Also, towards the middle of the book, the story did start to slow down a bit and be a bit repetitive. Luckily though, it did pick up again.
Overall, it was sweet, sexy read. I would recommend it to readers who love age difference love stories and don't mind a couple who falls hard and fast for each other. 3.75 Stars rounded up to 4 for enjoyment.