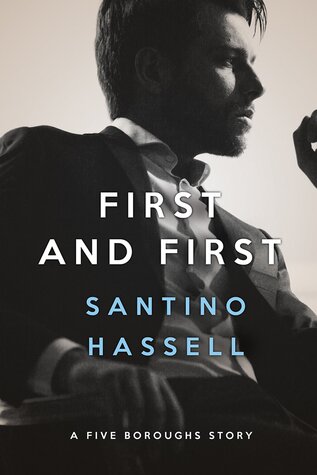 Title: First and First (Five Boroughs #3)
Author: Santino Hassell
Publisher: Dreamspinner Press
Release Date: April 18th 2016
Genre(s): Contemporary
Page Count:
Reviewed by: Ele
Heat Level: 4 flames out of 5
Rating: 5 stars out of 5
Blurb:

Caleb Stone was raised on the Upper East Side, where wealth and lineage reigns, and "alternative lifestyles" are hidden. It took him years to come out to his family, but he's still stuck in the stranglehold of their expectations. Caleb knows he has to build his confidence and shake things up, but he doesn't know how… until Oliver Buckley enters the picture.

Oli is everything Caleb isn't—risk-taking, provocative, and fiercely independent. Disowned by his family, Oli has made his own way in the world and is beholden to no one. After a chance encounter on New Year's Eve, Caleb is smitten.

As Caleb sheds the insecurities that have held him back for years, he makes bold steps toward changing his career and escaping years of sexual repression. But for Caleb to take full control of his life, he has to be brave enough to confront his feelings and trust Oli with his heart.
""You're so sexy," Oli panted. "And you don't even know it, and that just makes me want to destroy you. Take you apart and fuck you until you're trembling and begging and saying my name."

This book is different than its predecessors. Caleb and Oli come from a different background than the Rodriguez brothers. This time it's not working-class neighborhoods, but the Upper East Side. And it was really interesting, what he managed to do with the "poor little rich boy"
I 've come to understand, that what makes Santino Hassell's stories stand out is ?he character growth. I don't say this lightly; his characters really grow!
In First and First, Caleb starts as an uptight, lonely, sexually repressed man, and by the time Hassell is done with him, he's this liberated person, who accepts himself and isn't afraid to own his desires. And Oli, who is always closed off and nothing more than a fuck buddy, is not afraid to open himself up to someone else anymore. But this doesn't happen at once; it's a journey. The whole story is a journey. Not a page, not a word is wasted.
The prologue of this book is the best I 've ever read and it leaves you breathless. It pretty much sets the tone for the whole story. I loved how flashbacks of that first night poped up unexpectedely now and then.
Very hot and lengthy sex scenes, very integral to the plot, necessary even. Caleb is a very supressed man while Oli is very confident about his sexuality. I felt that this story was a voice against slut-shaming, and sexual restrictions or taboos imposed by society.
The writing flows effortlessly; it's raw and gritty but with an unexpected sweetness at times.
No contrived drama here. The characters are so well sketched, I didn't even need Oli's POV. They own their mistakes and flaws. I understood them! Why Caleb was this way, what went wrong with David, and why did David cheat….I understood everything!
The secondary characters are intriguing and deserve a story of their own. Add in all the above, the intoxicating multiculturalism of NYC, and there you have it….a story that breaks cliches, by an author who isn't afraid to take risks.
Bottom line, this is a story exactly about what the dedication says;…"the thirtysomethings who are still trying to figure it out."
Highly recommended!
Five Boroughs Series

 Author Link GoodReads More Author Reviews

Advanced Review Copy
Galley copy of provided by in exchange of an honest review.