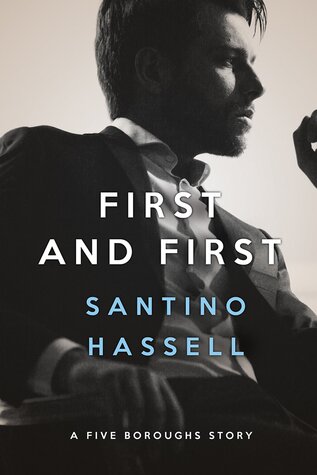 Title: First and First (Five Boroughs #3)
Author: Santino Hassell
Publisher: Dreamspinner Press
Release Date: April 18th 2016
Genre(s): Contemporary
Page Count:
Reviewed by: Ele, Renee and Lili
Blurb:


Caleb Stone was raised on the Upper East Side, where wealth and lineage reigns, and "alternative lifestyles" are hidden. It took him years to come out to his family, but he's still stuck in the stranglehold of their expectations. Caleb knows he has to build his confidence and shake things up, but he doesn't know how… until Oliver Buckley enters the picture.

Oli is everything Caleb isn't—risk-taking, provocative, and fiercely independent. Disowned by his family, Oli has made his own way in the world and is beholden to no one. After a chance encounter on New Year's Eve, Caleb is smitten.

As Caleb sheds the insecurities that have held him back for years, he makes bold steps toward changing his career and escaping years of sexual repression. But for Caleb to take full control of his life, he has to be brave enough to confront his feelings and trust Oli with his heart.
Buy First and First
Amazon Global B & N GoodReads Kobo
First and First Reviews
Renee's Review Ele's Review Lili's Review
Five Boroughs Series
Author Bio
Santino Hassell was raised by a conservative family, but he was anything but traditional. He grew up to be a smart-mouthed, school cutting grunge kid, then a transient twenty-something, and eventually transformed into an unlikely romance author.
Santino writes queer romance that is heavily influenced by the gritty, urban landscape of New York City, his belief that human relationships are complex and flawed, and his own life experiences.
Find Santino
Website  Newsletter GoodReads More Reviews