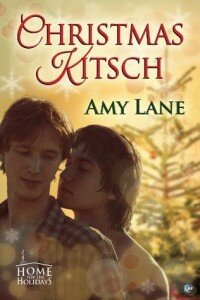 Title: Christmas Kitsch
Author: Amy Lane
Publisher: Riptide Publishing
Release Date: December 7th 2013
Genre(s): M/M Contemporary
Page Count: 200 pages
Reviewed by: Belen
Heat Level: 3 flames out of 5
Rating: 5+ stars out of 5




Blurb:
Sometimes the best thing you can get for Christmas is knowing what you really want.

Rusty Baker is a blond, rich, entitled football player in a high school full of them—just the type of oblivious jock all the bullied kids hate. And he might have stayed that way, except he develops a friendship with out-and-proud Oliver Campbell from the wrong side of the tracks. Rusty thinks the friendship is just pity—Oliver is very bright, and Rusty is very not—but then Oliver kisses him goodbye when Rusty leaves for college, and Rusty is forced to rethink everything he knows about himself.

But even Rusty's newfound awareness can't help him survive a semester at Berkeley. He returns home for Thanksgiving break clinging to the one thing he knows to be true: Oliver Campbell is the best thing that's ever happened to him.

Rusty's parents disagree, and Rusty finds himself homeless for the holidays. Oliver may not have much money, but he's got something Rusty has never known: true family. With their help and Oliver's love, Rusty comes to realize that he may have failed college, but he'll pass real life with flying rainbow colors.

5+ I-loved-every-word Stars!
Christmas Kitsch is one of my all time favorites stories. It wormed it's way so easily into my heart that I know I am forever changed by it. I loved every word.
Yes, the characters are young, around 18, and I suppose it's technically a Young Adult/New Adult novel, but don't let that put you off! This is Amy Lane, people. This author has a knack of taking the norm and setting in on it's ear…then pouring in all the love, emotion and feels in the world.
Rusty is a sweet kid, albeit with more heart than brains, who lives in a very cookie cutter white on white world with not much affection. The story is told entirely from Rusty's first person point of view and begins with Rusty telling the reader about how he's been kicked out of his home just before Thanksgiving, but he doesn't, and couldn't, blame Oliver.
Rusty then begins his story of when Oliver, a Hispanic openly gay boy (which is a pretty big anomaly in this little white suburban town) shows up in his English Literature class their senior year of high school and of Rusty's instant fascination.
This is all about friendship, love, family, and home.

Even the at my most hard-hearted I laugh, cry, rage, and feel my little heart grow three sizes.
This is a story of two boys who fit together like pieces of a puzzle. It's about family – the one you're born into, and the one you choose. It's about growing up and finding out who you are and who you're meant to be with and all the mess that life can throw your way.
I cannot convey how much I love this story and these characters…

HIGHLY, HIGHLY RECOMMENDED!

Buy Link Author Link GoodReads