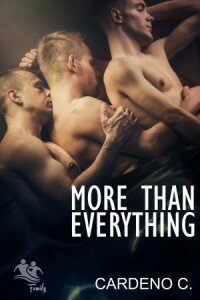 Title: More Than Everything (Family #3)
Author: Cardeno C.
Publisher: The Romance Authors
Release Date: October 13, 2015
Genre(s): Contemporary
Page Count: 279
Reviewed by: Vallie
Heat Level: 4 flames out of 5
Rating: 4 stars out of 5
Blurb:

A Book in the Family Collection

Time might not heal all wounds, but with two motivated and strong-willed men on a campaign to win him back, Charlie will get more than he ever thought possible.

As a teenager, Charlie "Chase" Rhodes meets Scott Boone and falls head over heels in love with the popular, athletic boy next door. Charlie thinks he's living the dream when Scott says he feels the same way. But his dreams are dashed when Scott unexpectedly moves away.

Years later, Charlie meets brash and confident Adan Navarro, who claims all he wants is a round between the sheets. After eight months together, Charlie is convinced Adan returns his love. But when the opportunity comes to be open about their relationship, Adan walks away.

Time passes and life moves on, but when Charlie learns the only two men he's ever loved are now in love with each other, his heart breaks all over again. Scott and Adan tell Charlie they want him back, but Charlie doesn't know if he can trust two people who have hurt him so deeply. Time might not heal all wounds, but with two motivated and strong-willed men on a campaign to win him back, Charlie will get more than he ever thought possible.
I am such a happy camper after reading this. Especially because ménage stories are definitely not my forte and I am always suspicious of how equal the love is between the partners. This book is unique because Charlie had a relationship with both Scott and Adan separately at different points in his life. So, when they all came together, it still didn't feel super believable, but at least I was convinced of the emotions between all three of them.
This book combines two of my favourite themes –childhood friends turned lovers and second chance romance. How amazing to get it all in one book?! In the first part of the book, Charlie and Adan meet as teens, become close friends, and eventually a couple. I smiled so freaking wide during this part of the book, oh my god! They were so cute and sweet and seeing them explore their sexuality for the first time together…YA/NA gold I tell you! Then…the boys can't maintain a long-distance relationship and drift apart.
Charlie became Chase –remember Daniel's hot dancer friend in Vegas?- and we got to see him as an adult, chasing dreams and experiencing relationships. That's when Scott came into the picture. Scott wasn't my favourite because he had the jerk vibe that Asher had from Something in the way he needs . He was a control freak, very uptight, and pretty much inconsiderate about anything that he didn't find use for. He broke Chase's heart. But, to his defence, he did love Chase but couldn't overcome his personal hang-ups to show him.
And it all comes full circle when tragedy brings Charlie/Chase back to Nevada where guess what? Scott and Adan are a couple! Neither of them ever got over Charlie/Chase and felt that something was missing from their committed life as home/owners and law-firm partners, especially with both of them preferring to top and Charlie/Chase preferring to bottom. While this reunion part was sweet it really was very unbelievable. Scott and Adan didn't really have a chance to talk about what their individual feelings were about this person from their past. They both automatically assumed they would all become a trio, by exchanging a glance. Other than that, I enjoyed the drawn out period where they all got reacquainted after all these years. Charlie/Chase didn't just fall into bed with them. In fact, the ménage scenes didn't happen until the very end. While very hot, it was obvious the author wanted to emphasize the emotional connection of the characters. Fear not, though, the sex was very steamy and graphic.
My only major niggle was how the topic of the kids was handled. No one seemed interested in explaining to them about the new living arrangements. The legal issues were resolved with no qualms either. Is it really that easy? One would hope so, but I sincerely doubt it.
And they all lived happily ever after.
Recommend.
PS. I don't know how often it's mentioned but, damn, these books in the Family series are so very funny. Hilarious one-liners had me cracking up, especially in the beginning of the book.
Advanced Review Copy
ARC of More Than Everything provided by the author in exchange for an honest review.