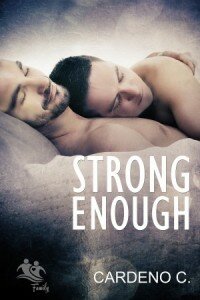 Title: Strong Enough (Family #2)
Author: Cardeno C
Publisher: The Romance Authors
Release Date: August 30th 2013
Genre(s): Contemporary Romance
Page Count: 200 pages
Reviewed by: Lili
Heat Level: 4 flames out 5
Rating: 4.5 stars out of 5
Blurb:
A Book in the Family Collection

When a casual hookup turns into the potential for love, staid Spencer realizes he wants to build a life with vibrant Emilio.

When twenty-two-year-old Emilio Sanchez sees handsome Spencer Derdinger walking by his construction site, Emilio makes it his goal to seduce the shy professor. Getting Spencer into bed isn't difficult, but Emilio soon learns that earning the trust of a man deeply hurt will take time and patience. With a prize like brilliant, sweet Spencer on the line, Emilio decides he is strong enough to face the challenge.

Spencer is surprised when he's approached by the gorgeous construction worker he's admired from the safety of his office window. Acting spontaneously for the first time in his thirty-eight years, Spencer takes Emilio home. When the casual hookup turns into the potential for love, Spencer realizes that if he wants to build a life with Emilio, he'll need to be strong enough to slay his personal demons and learn to trust again.

Strong Enough by Cardeno C is a fluff lover's delight. We have a kind-hearted thirty-eight-old Spencer who is afraid to trust after being hurt by those who are supposed to love him. Then there's twenty-two-year-old Emilio, who has a heart as big as the universe and isn't afraid to go after what he wants, and who he wants is Spencer.
What I loved:
*Emilio. He was so damn lovable. He was funny, sweet, and so romantic. He was wise beyond his years and loved how patient he was with Spencer- always putting his needs before his own.
*Spencer. There was this quiet strength to his character that spoke to me. Despite all the hurt and insecurities he carried he was brave enough to not pass up a chance at love.
*The secondary cast of characters. They were funny and caring.
*Believe it or not- the insta-love. Insta-love is tricky and it can easily ruin a story, fortunately, it was perfect here.
*The steam of course.
*It's told from an alternating POV.
Why not 5 Stars?
*I did find the dialogue a bit repetitive at times.
*The way the Psycho Peter situation was written. I get what the author was trying to do-

Spoiler

but having psycho show up at the pool hall felt like overkill. It felt a bit pointless since I had already seen him stand up to Peter when he showed up at his office. I just found myself thinking- why are you here? Again.
As far as this being book two in the series: I haven't read the first one and I didn't feel as if I missed out on anything. It can be read as a standalone.
All in all- I quite enjoyed this. If it wasn't because I have to adult every day I could've easily gotten lost in this book and read it in one sitting. If you're in the mood for an uber sweet and sexy read give this one a try! 4.5 Stars ♥

Author Link
GoodReads
Advanced Review Copy
A copy of the second edition of the book was kindly provided by
Cardeno C
for an honest review.