Gay Book Reviews is thrilled to welcome Santino Hassell as our guest author today!


Ten Things about First and First
It takes place in Manhattan.

The OTHER Manhattan. The one people like you and me read about in the NYT Style Section (okay, I mostly read Gawker articles that make fun of the NYT Style Section). Caleb Stone is a hedge fund heir, which means his world is very small and insular. When you belong to NYC's 1%, your last name matters more than your bank account if the money in it is new. Everyone knows everything, which is a big part of why Caleb was repressed for so long. It isn't until he meets Oli that Caleb learns about an entirely new part of that world.
Secret Parties.
We've all heard about the exclusive nightlife of NYC's socialites and celebutantes, right? Hidden doors leading to secret sex clubs, bars and swanky restaurants stashed behind false doors, and parties that you'll only be invited to if you have the right name. You'll see a little of that world in First and First as Oli broadens Caleb's horizons. You'll also see prime moments of Awkward Caleb, who'd rather be at home with wine and his Kindle.
Swank apartments.

Oli lives in an industrial bachelor pad in Alphabet City, but Caleb pays thousands a month for a gorgeous penthouse on Spruce Street. Except, he doesn't always love it. As he stares down from the luxury high rise, he often reflects on how isolated he feels. Until Oli pops up in all of his vulgar glory.
A sexy snowstorm.

I have a thing about people versus nature conflicts in romance, and I worked that into First and First. Except here, the conflict is how hot Oli and Caleb can get each other while a historic blizzard rages outside and a travel ban goes into effect.
Talk about fantasies.
Caleb has lived his life trying to be a certain version of himself. He tried so hard that he completely repressed his fantasies and desires for years. In First and First, his walls come down and he realizes that having dirty fantasies is completely okay. Even if he wouldn't act all of them out. Although, he might still tell Oli about them…
Role play.

Need I say more? 😉
Awkwardness.
Caleb doesn't spring forth from his shell as a fully-formed warrior of sex and fantasy. Sometimes he's like an easily startled gazelle and other times, he's out doing things and spending time with people while thinking: "How did I get here? What's happening? I should have stayed home and ordered Seamless."
There's also a lot of talk about social media.

Let's face it, social media is an integral part of our lives. As sad as that is. Someone changing their relationship status on FB is like a monumental event, an unfollowing or unfriending is seen as a huge statement, and Instagram has become a new way to creep on each other's lives (or the life we want others to think we have). But… it's also a way to make connections with new people, which is important.
I'm not just waxing on about SM here. All of those things come up in First and First in various ways. Caleb also utters this phrase: "Social media was the bane of my everything. On the one hand, I hated it, but on the other, I couldn't stay away."
Learning to be a dreamer.
Caleb not only struggles with what he's supposed to be like in a relationship or with a lover, but how he's supposed to live his life. First and First sees him letting go of the expectations of his family, and walking away from the path he'd chosen years ago. He has a very "now or never" attitude as the book progresses, and he knows if he keeps waiting to make a change he'll be stuck in the same rut forever.
There are a few side characters that I absolutely fucking adore.

Maybe one day they will get stories of their own. 😉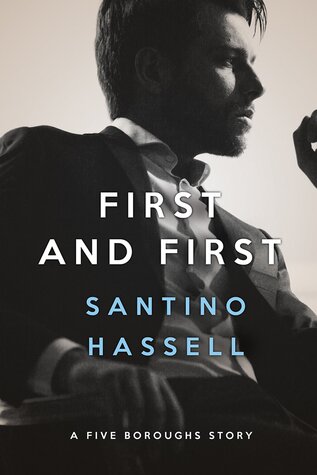 Title: First and First (Five Boroughs #3)
Author: Santino Hassell
Publisher: Dreamspinner Press
Release Date: April 18th 2016
Genre(s): Contemporary
Page Count:
Reviewed by: Ele, Renee and Lili
Blurb:


Caleb Stone was raised on the Upper East Side, where wealth and lineage reigns, and "alternative lifestyles" are hidden. It took him years to come out to his family, but he's still stuck in the stranglehold of their expectations. Caleb knows he has to build his confidence and shake things up, but he doesn't know how… until Oliver Buckley enters the picture.

Oli is everything Caleb isn't—risk-taking, provocative, and fiercely independent. Disowned by his family, Oli has made his own way in the world and is beholden to no one. After a chance encounter on New Year's Eve, Caleb is smitten.

As Caleb sheds the insecurities that have held him back for years, he makes bold steps toward changing his career and escaping years of sexual repression. But for Caleb to take full control of his life, he has to be brave enough to confront his feelings and trust Oli with his heart.
Buy First and First
Amazon Global B & N GoodReads Kobo
First and First Reviews
Renee's Review Ele's Review Lili's Review
Five Boroughs Series
Author Bio
Santino Hassell was raised by a conservative family, but he was anything but traditional. He grew up to be a smart-mouthed, school cutting grunge kid, then a transient twenty-something, and eventually transformed into an unlikely romance author.
Santino writes queer romance that is heavily influenced by the gritty, urban landscape of New York City, his belief that human relationships are complex and flawed, and his own life experiences.
Find Santino
Website  Newsletter GoodReads More Reviews