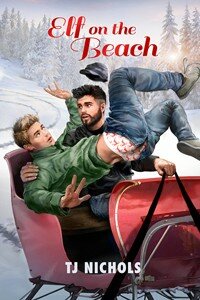 Title: Elf on the beach
Author: T.J. Nichols
Publisher: Dreamspinner Press
Release Date: December 1st 2015
Genre(s): Fantasy
Page Count: 41
Reviewed by: Ele
Heat Level: 3 flames out of 5
Rating: 4.6 stars out of 5
Blurb:

Roone Sorley is an elf on a mission. He has one year to live in the mortal world and experience everything it has to offer before deciding if he is going to return to the North Pole and immortality or stay and become human. Christmas in Australia is all sun, sand, and surf. For Kyle Morgan, that means lots of tourists wanting to learn how to surf, but he hates Christmas. This time of year always reminds him about the family he doesn't have.

With the clock ticking and only days left, Roone plans on making the most of the heat and the beach and his hot surfing instructor. Beyond that he has no idea what he wants. However with a little magic, he might be able to give Kyle exactly what he needs.

A story from the Dreamspinner Press 2015 Advent Calendar package "Sleigh Ride".
"Do you believe in magic?"

This was exactly how a romantic Christmas tale is supposed to be. With just the right amount of sweetness, angst, steam and magic!
Like Belen said in her review, in this story, elves have a Rumspringa! One year to decide if they want to stay home for ever and work as elves, or live as humans.
Roone is an elf and travels the world in search of summer. He only has two more weeks to make a decision. That's when he meets Kyle, a surf instructor. So much can happen in two weeks!
Kyle is directionless and a non believer. His tough childhood stole his ability to believe in magic. But not everything is lost, and the moment Kyle finds his faith again, is EVERYTHING!
The chemistry and the bond between Kyle and Roone is strong and the ending is just perfection.
Highly recommended! Even for non believers.
Advanced Review Copy
ARC kindly provided by in exchange for a honest review.