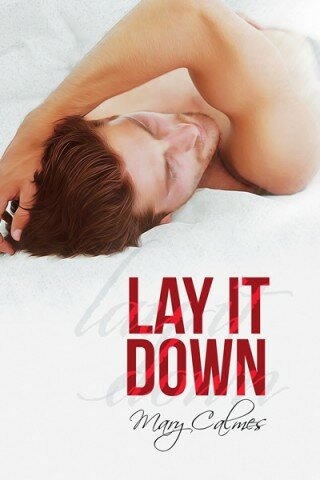 Title: Lay It Down
Author: Mary Calmes
Publisher: Dreamspinner Press
Release Date: March 16, 2016
Genre(s): Contemporary
Page Count: 126
Reviewed by: Renée
Heat Level:  3 flames out of 5
Rating:  3.6 stars out of 5
Blurb:
Paradise can be hell.

Most people would say being stranded in the villa of Spanish shipping magnate Miguel García Arquero on the beautiful isle of Ibiza wasn't such a bad deal. But Hudson Barber isn't one of them. To him, being stuck without a passport in a foreign country far from home is a nightmare, made worse by the fact that the person who did the stranding was his flighty twin brother.

Unwilling to turn Dalvon in for identity theft, Hudson is forced to wait, but meanwhile he discovers the chance to rehabilitate Miguel's failing local businesses—enterprises left to Dalvon's inexperienced care. The flagging ventures are a badly wrapped gift from heaven, and if Hudson can turn them around, he might be able to leverage the experience to finish his MBA.

Then Miguel returns to Ibiza, and instead of finding a boy toy, he discovers Hudson has turned his cold villa into a warm, welcoming home. Miguel's path is clear: convince Hudson to lay down his defenses and let love in.
Pay close attention to the blurb in this one. Calmes drops you right smack in the middle of this scenario. I like this about Calmes because it's all showing and no telling of the backstory. It causes whiplash in some readers, but I'm totally fine with this because I speak fluent Calmes.
Sexy setting of Spain, asshole twin brothers, drop dead gorgeous billionaires, and fun secondary characters means LOTS of fun to be found. But this is scatter-brained story telling by MC at her finest, so you need to pay close attention to the blurb. Final warning 😉
Hudson visits his twin brother who lives in a luxury villa with his billionaire, Spanish lover, Miguel. Miguel is away on business when Hudson visits, and his twin abandons him with no warning, taking Hudson's passport with him, so Hudson is stranded in Spain. The love story that ensues held no shortage of gotta-know-what-happens-next.
I didn't care for Dalvon, Hudson's twin. Hudson makes a lot of excuses for him, but there is no excuse for that kind of behavior. He's a spoiled brat who needs a punch in the junk. And while there are no peacoats to be found, we have an unnecessary plot point involving police and guns and a kidnapping. It didn't take up a lot of page time, but I didn't think it was needed for the story.
Overall, I enjoyed this one, *cough* wearing MC-belief-suspended-glasses *cough*. So go into it knowing this is typical MC and you will have fun with this one!
Author Link
GoodReads
More Author Reviews
Advanced Review Copy
Advanced review copy of Lay It Down provided by Dreamspinner Press in exchange for an honest review.