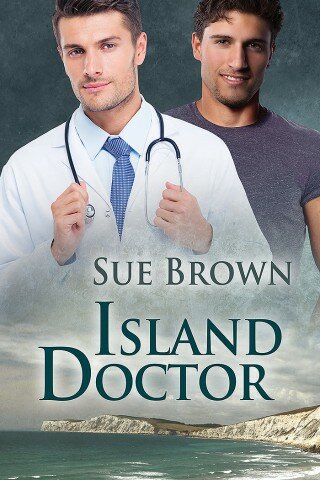 Title: Island Doctor (Island Medics #1)
Author: Sue Brown
Publisher: Dreamspinner Press
Release Date: January 11th 2016
Genre(s): M/M Contemporary Romance
Page Count: 214 pages
Reviewed by: Belen
Heat Level: 3 flames out of 5
Rating: 3 stars out of 5
Blurb:

Dr. Jeff Martin has spent five years as a rural general practitioner on the Isle of Wight hiding the fact he's gay. He travels in secret to see his partner, Tris, but when he discovers Tris has been cheating on him, he ends their relationship. Then Jeff meets island native Cameron Gillard. Cameron is down to earth, lively, and treats Jeff like he's the most important person in Cameron's life. Jeff blooms under Cameron's attention, and he decides to come out to his colleagues and friends.

Just when things are going well, Tris reappears out of the blue. Jeff is no longer interested in Tris, but it seems he has two men to convince. Tris, who can't believe Jeff is serious about wanting to end their relationship, and Cameron, who can't hide his jealousy of Tris. Jeff is certain about one thing—the only man he wants in his life is Cameron. Now he just needs to prove it to Cameron.

I'm a Sue Brown newbie; I've not read any of her other series, but I found no trouble keeping up with the characters and situations in the story, which does reference friendships and situations between characters from Sue's The Isle series and even a cameo appearance by two more characters from her Lyon Road Vets series.
Jeff Martin has been in a ten year relationship with Tristan Smithers. For the last five years Jeff's commuted every chance he's had to Manchester from his home and practice on the Isle of Wight to see Tris. When he discovers Tris has cheated on him Jeff dumps Tris and goes home. On the ride home Jeff bumps into Cameron Gillard, the gorgeous great-grandson of one of Jeff's patients.
Cameron quickly stakes his claim, and the two begin a new relationship.
He could hear Cameron muttering something, and he raised his head. "What did you say?"
Cameron looked him in the eyes. "He's not having you back. You're mine now."
Still lost in the haze of his orgasm, Jeff stared at him. It was too soon for such a declaration. God, he'd just split from Tris. This was a hookup, rebound sex. Wasn't it? "I don't want him back."
Cameron nodded. "I know what you're thinking, but I promise you I'll look after you. I won't hurt you." He tucked Jeff's hair behind his ear. "You don't need to be scared."
"I'm not scared of you," Jeff protested. That much was true. He wasn't scared of Cameron, but he was scared of falling again so quickly. He'd never been a player. Tris had been his third relationship ever. "You seem so sure."
"I've known you were it from the moment I met you."
I think fans of Sue Brown's will be very happy with the new series and eager to see where it goes.
Personally, there were some situations that had me shaking my head. (Examples: Because Tris has never once in five years bothered to come to visit Jeff on the Isle, and Jeff always commuted to see Tris he tells everyone that he's going to see his girlfriend "Trisha". But Jeff can never remember the name of his fictitious girlfriend…even though he's apparently been lying about it for FIVE years. Also, Brown writes that Jeff's suspected, then that he's been aware, of Tris' infidelity for years, but writes later about how Jeff didn't know and was gutted.)
Regardless, it's a sweet, romantic story that covers the relationship growth between Jeff and Cameron, some hot smexy times, and has only minimal angst and some light miscommunication and hard-headedness.
I wish it weren't so, but I didn't really get that invested in the story and didn't really connect to the characters. Bottom line: For me, it wasn't a hardship to read, but it didn't thrill me either.

 Author Link GoodReads More Author Reviews

Advanced Review Copy
Galley copy of provided by in exchange of an honest review.