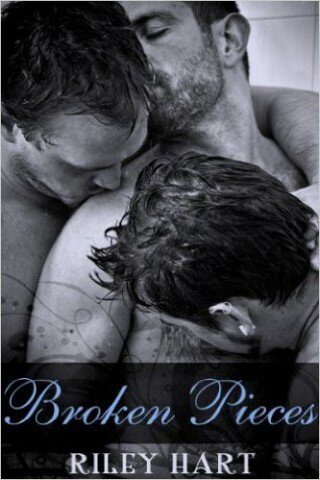 Title: Broken Pieces (Broken Pieces #1)
Author: Riley Hart
Publisher: Self-published
Release Date: February 14, 2014
Genre(s): Contemporary
Page Count: 444
Reviewed by: Natalie
Heat Level: 4 flames out of 5
Rating: 4.5 stars out of 5
Blurb:

Can three broken pieces make a whole?

Josiah Evans is the orphan who lost both his parents. He's sweet, shy, and all heart. He wants nothing more than to be loved.

Mateo Sanchez is the son of a gang leader. He's seen it all, and never hesitates to do what needs to be done, no matter what it is.

Tristan Croft is the wealthy attorney who clawed his way up from the bottom to rule his own world. He'll never depend on anyone but himself again.

Three men who couldn't be more different…and yet, as their lives intersect they find an uncommon balance that calms the storms inside each of them, and ignites fires hotter than they ever thought imaginable.

Told uniquely in three parts and spanning over ten years, BROKEN PIECES is a journey of healing for three fragmented souls, finding love in the unlikeliest of places—with each other.

I'd heard so many good things about Riley Hart's work, and now I see what the fuss was about! Broken Pieces was my introduction to Ms. Hart's writing. It was also my first gay menage book. I love gratuitous sex as much as the next person, but I want a story behind it. Don't just give me the boom boom without a connection. Well, I got exactly what I was looking for in Broken Pieces. Hey now!
The book is split into three parts; the first part details Josiah and Mateo's time together. The story opens with Josiah and Mateo meeting for the first time. An adorable couple, Molly and William, have opened up their home to both boys and are acting as their foster parents. Josiah is a shy, introverted sixteen-year-old, who identifies as gay but would never tell a soul. He can barely hold eye contact with people. This kid was the sweetest; I wanted to leap into the pages and give him a hug. Mateo is only a year older than Josiah and very closeted. He's suppressed his urges because it's only gotten him into trouble. This kid… he's seen and done things no seventeen-year-old should be privy to. Mateo's upbringing was in a nutshell, rough. His father beat him and attempted to mold him into something he never wants to become, the future leader of his father's gang.
Mateo's hard edge and Josiah's softness worked. These two… oy… the rocky roller coaster doesn't stop there. Part two of the book introduces Tristan. I'll admit it took me a bit to warm up to him, but once I let go of my reservations, I adored him. A significant amount of time has also passed, so we get to see what's transpired in Mateo and Josiah's life as well.
The sex scenes in this story were yummy, yum, yum. Hot man lovin' in a threeway form? YES PLEASE!
Part three, we finally see all men figure out what it is they ultimately want from one another. I loved the conclusion so much! I can't wait to read book two. I really enjoyed the way Ms. Hart wrote each character particularly Josiah. He won my heart. Also, this book totally didn't seem like it was 400+ pages! I guess that's what happens when you're entranced in a story.
The only reason I didn't give this five stars across the board was due to minor editing issues. There were a couple of grammatical errors present, nothing egregious but I did make note of them. Don't let my neuroticism deter you from picking this up. If you're interested in a menage dynamic with endearing characters, read Broken Pieces it's a winner.
Broken Pieces Series

 Author Link GoodReads More Reviews

Advanced Review Copy
ARC of Broken Pieces provided by the author in exchange for an honest review.