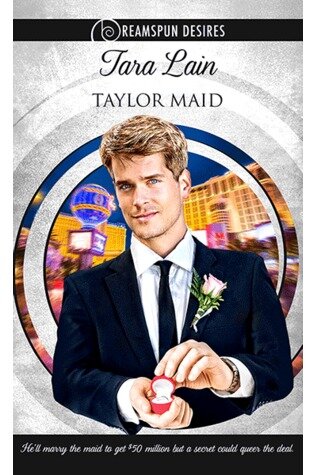 Title: Taylor Maid (Dreamspun Desires)
Author: Tara Lain
Publisher: Dreamspinner Press
Release Date: March 1, 2016
Genre(s): Contemporary Romance
Page Count: 218
Reviewed by: Minnie
Heat Level: 3 flames out of 5
Rating: 4.4 stars out of 5
Blurb:

He'll marry the maid to get $50 million but a secret could queer the deal.

Taylor Fitzgerald needs a last-minute bride.

On the eve of his twenty-fifth birthday, the billionaire's son discovers that despite being gay, he must marry a woman before midnight or lose a fifty-million-dollar inheritance. So he hightails it to Las Vegas… where he meets the beautiful maid Ally May.

There's just one rather significant problem: Ally is actually Alessandro Macias, son of a tough Brazilian hotel magnate. But if Ally keeps pretending to be a girl for a little while longer, is there a chance they might discover this marriage is tailor-made?

Oh goodness, I loved this story!!
This book was a cliche, but was fun to read. The plot was well written, the characters well develop and the chemistry off the charts. It's not just the sexy scenes but the build up and the mystery that is Ally May.
That was a sweet ending and what Ally made his dad do was ah-mazing, I had a good laugh. This story is definitively re-read material and I wish there was more of this characters in the future.

  Amazon Global Author Link GoodReads More Author Reviews

Advanced Review Copy
Galley copy of provided by in exchange of an honest review.