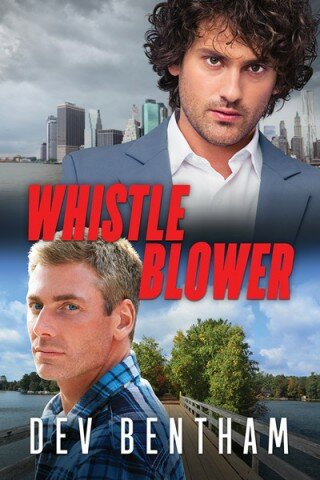 Title: Whistle Blower
Author: Dev Bentham
Publisher: Dreamspinner Press
Release Date: February 5, 2016
Genre(s): Contemporary
Page Count: 214
Reviewed by: Kristin
Heat Level: 3 flames out of 5
Rating: 4 stars out of 5
Blurb:

Money can't buy happiness. Jacob Nussbaum knows this better than anyone. He's a corporate lawyer deep inside a huge New York firm, where he works overtime, sacrifices any chance at a personal life, and has been selling his soul for years. With a secretary as his only friend, he trudges on, until his whole world is blown apart by a manila envelope of photos—evidence that one of the firm's partners is the dirtiest lawyer in one hell of a filthy business.

In search of the truth, Jacob travels to a small northern Wisconsin fishing resort. There he meets Ben Anderson, a brutally lonely man, who knocks him off his feet. Ben prompts Jacob to reevaluate his life. He's a dozen years older than Jacob, still recovering from the death of his long time love, and doesn't want to leave anyone a widower. But a jaded New Yorker on a soul-searching mission might be just the man to convince the grieving Ben that it's never too late to begin again.
I adored this story! This is my kind of romance – a satisfying, sweet read that made my eyes leak, but also made me want to knock a couple of heads together and say "get over yourselves!". Loved it.
Ben, 50 years old, two years a widow and still quietly grieving the loss of his older partner from cancer. Jacob, a mature 35 year old, newly made partner in a very prestigious but morally bankrupt firm in New York City. Jacob lives to work, but with the ethical morality of the firm in question, he beginning to question if this is the life he wants to live.
Jacob is in search of the truth as it relates to a senior partner in his firm conducting shady business practices. His quest brings him to Wildcat Island Resort in Northern Wisconsin, in hopes of talking to a former lawyer. When the gentleman doesn't arrive as planned, Jacob spends several days enjoying a long overdue vacation and connects with Ben.
The rules are simple – this is not a relationship, they are not exclusive, and either one can end it without question.
While this is a story about both men, the story's emphasis is slightly more on Ben and his past grief, his fears, and his loneliness. Ben watched his older partner slowly die from cancer, was there at the end, and vowed he wouldn't put anyone through such grief. The sister-in-law says it's time to move on, Ben's friends say it's time to move on, Ben knows it's time to move on, but he just can't seem to make that final step.
This is where Jacob comes in. Young, hot, vibrant, isolated Jacob. He has money, he has the skyrocketing career, he has nothing else. Through Ben, he finds a glimmer of happiness.
I also applauded the author in avoiding what I consider the generic trope friends – the hyperactive girlfriend who wants to know all the sex details, the smug gay couple, the overbearing but means well sister. In Whistle Blower, the sister-in-law was supportive and absent for most of the story. The gay couple were older, giving an interesting look back at being gay in the 80's and what it means in the current day. The secretary was supportive and unobtrusive. I liked the supporting cast for that reason, they supported.
The plot is not without a few minor issues, and these are mostly my quirks. Jacob came across a bit flat, and sometimes I really didn't feel like I knew what was going on emotionally. I would have liked to have seen more emotion – for example, angst and fear from what he was about to do to the company and how it would impact him. I got annoyed with Ben rejecting Jacob because of his age, but yet, that played a part in the overall story line, so…yeah. Mixed on that aspect. Again, my quirks.
I want to say more, but I'm afraid if I do I'll give away too much of the story. Read it and find out for yourself just how beautiful Ben and Jacob are.

 Amazon Global Author Link GoodReads More Author Reviews

Advanced Review Copy
Galley copy of provided by in exchange of an honest review.