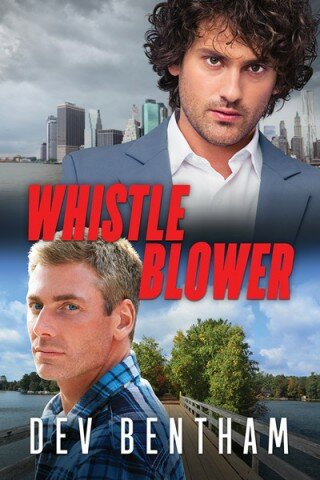 Title: Whistle Blower
Author: Dev Bentham
Publisher: Dreamspinner Press
Release Date: February 5, 2016
Genre(s): Contemporary
Page Count: 214
Cover Artist: Catt Ford
Reviewed By: Kristin & CrabbyPatty
Blurb:
Money can't buy happiness. Jacob Nussbaum knows this better than anyone. He's a corporate lawyer deep inside a huge New York firm, where he works overtime, sacrifices any chance at a personal life, and has been selling his soul for years. With a secretary as his only friend, he trudges on, until his whole world is blown apart by a manila envelope of photos—evidence that one of the firm's partners is the dirtiest lawyer in one hell of a filthy business.

In search of the truth, Jacob travels to a small northern Wisconsin fishing resort. There he meets Ben Anderson, a brutally lonely man, who knocks him off his feet. Ben prompts Jacob to reevaluate his life. He's a dozen years older than Jacob, still recovering from the death of his long time love, and doesn't want to leave anyone a widower. But a jaded New Yorker on a soul-searching mission might be just the man to convince the grieving Ben that it's never too late to begin again.
Exclusive Excerpt:
By the time he got the scull back on the rack and the oars and the life jacket put away, the very hungover group from cabin five stumbled onto the dock. Ben got them set up with a boat, gas, drinking water, coffee, beer, fishing gear, and bait. He circled a spot on the map where the bass might be biting and sent them off on their own.
The island sat dead center in Wildcat Lake. Even these guys could find their way back.
He walked up the hill to the lodge. Miriam was at the desk, chatting with a customer. She smiled at Ben as he entered.
"We need more firewood," the woman was saying. "Do I ask your husband for that?"
"Brother-in-law," Miriam corrected. It was close enough to the truth.
Ben stepped up to the desk. "Cabin eight, right? I'll bring some over later this morning."
The woman thanked him and left. Miriam watched her go. "They need more wood? Was everyone down at the campfire last night?"
"Maybe cabin eight had a cozy fire. Romantic getaway and all that."
Across the dining room, one of the young men from cabin six looked up and gave Ben a dazzling smile.
Miriam followed Ben's gaze. "Speaking of which…."
"Can't be more than twenty-five." Ben looked down at the desk, as if checking the dinner reservations.
She glanced at the kid out of the corner of her eye. "I think it's that haunted look. It really works for you."
"Haunted. I wish I were. I just don't sleep well." Ben cleared his throat and shuffled the papers. "He's half my age, Miriam, and couldn't possibly be attracted to an old codger."
"You were." Her tone was warm.
He glanced up, smiling at the memory. "Yes I was. But Manny wasn't fifty. He was forty. Big difference."
"And you were how old?"
"Twenty-three." Ben glanced across at the young man, who was engaged again in the table conversation. "Hard to believe I was that young."
And falling in love with an older man had turned out to be a devil's bargain, hadn't it? There'd been plenty of good years. More good years than anyone should expect. But those last months—Ben shivered—no one deserved that.
"He's cute." As if on cue, the kid looked up, gracing Ben with that sweet smile. "I think he likes you."
Ben snorted, but not before giving the slightest of nods to the kid. "If he wants to make me part of his vacation experience, he knows where to find me." He turned away, focusing on Miriam again. "In the meantime, you need anything in town?"
"One of these days, one of them is going to get to you." Her gaze was sad. "Or at least I hope so."
"No." He tapped the counter. "Now, you got a list?"
She scowled but slid open a drawer, pulled out a supply sheet, and passed it to him. "It's been long enough, Ben. It's time."
He folded the sheet and shoved it into the back pocket of his jeans. "Take off your matchmaking hat. I already had more than my fair share of love. But Manny promised me that if we were monogamous, we'd survive. It was the only time he ever lied." He brushed a kiss over her cheek and pushed off. He took one last look at the kid. Ben might be fifty, but he wasn't dead. Even if it still felt like cheating. He stepped out of the lodge and into the morning sun. He had firewood to haul and groceries to get. The living and the dead would both have to wait.
Buy the book:
| | Amazon Global | Kobo | | B&N
Meet the author:
Dev Bentham writes soulful m/m romance. Her characters are flawed and damaged adult men who may not even know what they are missing, but whose lives are transformed by true love.
Where to find the author:
| | | Goodreads
Tour Dates & Stops:
Parker Williams, BFD Book Blog, KathyMac Reviews, Bayou Book Junkie, , Elisa – My Reviews and Ramblings, Book Lovers 4Ever, A.M. Leibowitz, , Dawn's Reading Nook, The Jena Wade, Andrew Q. Gordon, Wicked Faerie's Tales and Reviews, Louise Lyons, Velvet Panic, Inked Rainbow Reads, Scattered Thoughts & Rogue Words, MM Good Book Reviews, Unquietly Me, Fangirl Moments and My Two Cents, Making It Happen, Book Reviews and More by Kathy, Molly Lolly, 3 Chicks After Dark, Alpha Book Club, Jessie G. Books, My Fiction Nook, Havan Fellows, V's Reads, Kiki's Kinky Picks, Divine Magazine, Two Chicks Obsessed With Books and Eye Candy, Kirsty Loves Books