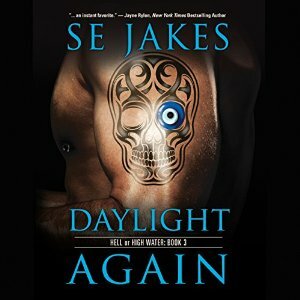 Title: Daylight Again
Series: Hell or High Water, Book 3
Author: S.E. Jakes
Publisher: Riptide Publishing
Release Date: May 5th 2014 (eBook)
Length: 7 hrs and 50 mins
Narrator: Adam North
Genre(s): m/m- Military/Police Romance
Page Count: 265 Pages
Reviewed by: Jaime
Heat Level: 4 flames out of 5
Rating: 4.5 stars out of 5
Blurb:

Before Prophet Drews can have a future, he must first put his past to rest.

Prophet Drews is a man on the edge, and he's pulling Tom Boudreaux, his partner on the job and in real life, right over with him. When his old CO calls in a favor, Prophet asks Tom to join the off-the-grid rescue. But the mission raises all of Prophet's old ghosts: CIA assassins, the terrorist Sadiq, and most importantly, John—traitor, former teammate, and Prophet's first love.

To help bury those ghosts for good, Prophet and Tom gather the members of Prophet's former SEAL team . . . and a spook named Cillian who's been tailing Prophet for years. In the process, Prophet is forced to face his team's shifting loyalties, ghosts who refuse to stay dead, and scariest of all, his own limitations.

With everyone's lives in danger, Prophet and Tom must unravel a tangled knot of secrets, including their own. Prophet must decide how much to reveal to Tom, while Tom must decide how far he's willing to go to help Prophet lay his ghosts to rest.

I loved this installment of the Hell or High Water Series!! I have come to adore these two MC Tom and Prophet.. I adore them for all their wittiness, their snarkiness, their bad-ass attitudes and take no prisoners methods and I adore them because they make no apologies! This book is full of roller coaster moments again, so hang on as you enjoy the ride. S.E. Jakes will take you high as a kite and then drop you faster than a lead balloon.. emotions run high in this book. I have gotten used to Adam North and his narration but I still can't help but think that if he just showed a bit more emotion during his narratives this would be a 5 star audio book review.
Hell or High Water Series

 Amazon Global Author Link GoodReads More Author Reviews