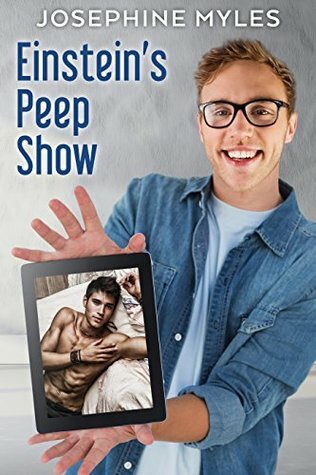 Title: Einstein's Peep Show
Author: Josephine Myles
Publisher: Self-Published
Release Date:February 23rd 2016
Genre(s): Contemporary
Page Count: 90
Reviewed by: Ele
Heat Level: 4.5 flames out of 5
Rating: 4.5 stars out of 5
Blurb:

Nerdy by day, naughty by night!

Nathan Wright has a secret life. During the day he's a dedicated student, working hard for his maths degree. But times are tough, and in order to make ends meet by night he becomes "Einstein", wooing punters with his online solo sex show. Still wounded by his last dysfunctional relationship, Nathan's happy being single. But when his highest tipping client demands it, Einstein has to overcome his social awkwardness to rope in some extra help.

Party boy Rory Jones has never given his geeky neighbour a second glance, but he's not one to turn down the offer of a free blow job, even when Nathan tells him it's going online. Once on camera, Rory discovers his exhibitionist streak and the two of them are so hot together, the one-off becomes a regular gig.

But being neighbours with benefits isn't without its challenges. Nathan's client keeps wanting more, and he finds himself pushed into a role he's not prepared for. Meanwhile Rory's growing affection leaves him worried his ultra-rational lover won't ever be able to share his emotions. If he and Nathan can't find something more than great sex in common, they'll be left with the square root of absolute zero.
"Did you just ask how big my knob is?"

Nathan stuck his chin out. "I need to know."

"Why does it matter to you?"

"B-because I need to perform fellatio on someone with an above average sized penis in the next ten minutes."

And that's how it all starts!
The only thing Nathan and Rory have in common, is that they both live in the same floor of an apartment building.
Nathan is a nerd. A nerd with glasses (this is important). He just got out of a bad relationship and is focused on his studies 95% of his time. During the remaining 5% he's busy working. As a camera model with his own online solo sex show! Yes, that's right, Nathan is very naughty. And now his online, um…."boss" wants him to stop performing solo. And Rory is more than willing to help.
Rory is a shift manager. He's super hot and the furthest thing from a nerd. In Nathan's words, he's a tanned and tattooed hunk of manliness." But in reality, Rory is one big, goofy teddy bear who likes to snuggle after sex.
Who cares if it's just a hook up? Who cares if it's just for the camera? Rory wants to cuddle afterwards, dammit!
As expected, feelings start getting in the way, and Rory has to get awkward, emotionally detached and over-analytical Nathan, to open up.
Extra points for the completely hilarious fake porn talk. I was laughing so hard, I made people worried!
"Do me good and hard. Conquer me with your big, fat battering ram."[…]

"That's it, my little fuck-pony. Make some noise. Whinny your appreciation for my mighty purple-headed yoghurt slinger."

All ends well, and we get a HEA that made me feel all warm and…cuddly.
Definitely recommended, for when you need something light, filthy and funny!

 Amazon Global Author Link GoodReads More Author Reviews

Advanced Review Copy
Galley copy of provided by
the author
in exchange of an honest review.