Gay Book Reviews is thrilled to welcome Josephine Myles as our guest blogger today!
On why I write very British and very kinky male/male romance…
Thanks for inviting me over to guest blog. Today I'm answering a few questions some of my readers posed me. They're a nosy bunch!
Over to you:
Ken: Why m/m fiction?
Oh, the eternal question!
This is something I spent a lot of time thinking about and justifying in my own head when I first started out, but to be honest I don't give it much thought these days. I write in this genre because I love reading in this genre. I've always been drawn to stories featuring gay/lesbian/bisexual protagonists because as a bisexual woman I appreciate seeing other queer characters in fiction. Their struggles are similar to mine as I was growing up and coming to terms with my own orientation.
For me it really isn't about the "one man hot, two men hotter" equation (although I certainly don't disagree with it, but to be honest I find all kinds of gender pairings incredibly hot—it's all in the way they are written).
I also have to blame the BBC's Torchwood. Feeling incredibly pissed off about how they did away with my favourite character (a bisexual man in a gay relationship) led me to discover slash fanfiction, and I decided to have a go at writing a story myself. That's how I got writing again after a very long hiatus, and I very quickly realised writing erotica was something I could make a go of commercially. And since I was already writing gay erotic romance, it was easy to keep going in that genre.

I love the trope of the smart, sassy, painslut sub who is otherwise an independent, successful person and equal partner but who chooses to submit in the bedroom.Josephine Myles
Ken: Why do you relate so well to gay men?
I'm not sure that I do, really. By that I mean, I relate well to all men, gay, straight or other. I think I have a masculine brain. I've always had close male friends, right from when I was at playgroup. I was never a tomboy and I'm certainly not saying I'm trapped in the wrong body as I love being female. I just sometimes find women much tougher to understand. Men are easy in comparison. Their emotions tend to be more straightforward, and their thinking about sex and relationships is much simpler. I appreciate that. It makes sense.
Ken: Have you ever written male/female romance or would you ever consider it?
I've certainly written m/f erotica and have a few ideas for longer erotic romance novels bubbling around. The real difficulty is finding the spare time to write anything else. And since I already have a following in m/m romance, I would have to work on building up a whole new one in m/f. The sheer amount of work involved is off-putting right now. I'm probably more likely to branch out into crime fiction or science fiction—two other genres I love. But let's face it, with a toddler to look after, I don't think anything other than m/m is on the horizon for the next few years.
Jeff: Why BDSM?
This is a tough one to answer without revealing more than I'm comfortable sharing in public, but the dynamics of D/s relationships and masochism have always fascinated me. I remember the first time I ever read any BDSM—a dirty paperback by an anonymous writer me and my friends found on a park bench (this was pre-internet days, of course). I love the trope of the smart, sassy, painslut sub who is otherwise an independent, successful person and equal partner but who chooses to submit in the bedroom.
I'll leave it up to you all to read what you like into that 😛

For me it really isn't about the "one man hot, two men hotter" equation.Josephine Myles
Petronella: Do you ever get Americans asking for "translations" as your books are wonderfully English?
Not really, but probably because I've already dealt with most of my really confusing stuff during the beta reading phase. I like to have at least one American read my books over before they go to press so that they can alert me to things that need changing or clarifying. I have had to remove expressions like "Gordon Bennett!" before, but that was probably a good thing. I also make sure I never use the phrase "on the cards", as Americans always think I meant to say "in the cards", which has a totally different connotation.
I reckon Americans are getting much better at reading English slang, and we have the success of BBC America and series like Downton Abbey to thank for that. Also, they can always look things up if they're really confused. Ereaders are great for that!
I did have someone criticize me on Facebook, however, suggesting that I should make US versions of my books available. Mind you, I think he was an idiot because he thought To Kill a Mockingbird should also be rewritten for the British audience. Exposing ourselves to stories and ways of speaking from around the globe can only broaden our horizons, and I think that's a wonderful thing.
Readers, do you enjoy reading slang and dialect from different countries? Would it ever put you off making a purchase?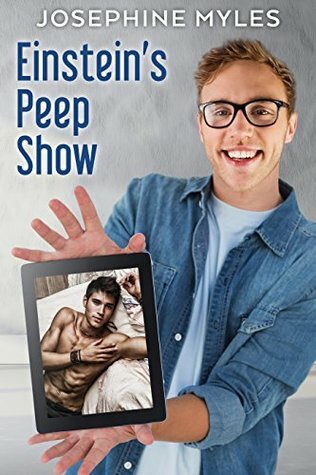 Title: Einstein's Peep Show
Author: Josephine Myles
Publisher: self-published
Release Date: February 23, 2016
Genre(s): Contemporary
Page Count: 90
Cover Art:
Reviewed by: Renée and Ele
Blurb:
Nerdy by day, naughty by night!

Nathan Wright has a secret life. During the day he's a dedicated student, working hard for his maths degree. But times are tough, and in order to make ends meet by night he becomes "Einstein", wooing punters with his online solo sex show. Still wounded by his last dysfunctional relationship, Nathan's happy being single. But when his highest tipping client demands it, Einstein has to overcome his social awkwardness to rope in some extra help.

Party boy Rory Jones has never given his geeky neighbour a second glance, but he's not one to turn down the offer of a free blow job, even when Nathan tells him it's going online. Once on camera, Rory discovers his exhibitionist streak and the two of them are so hot together, the one-off becomes a regular gig.

But being neighbours with benefits isn't without its challenges. Nathan's client keeps wanting more, and he finds himself pushed into a role he's not prepared for. Meanwhile Rory's growing affection leaves him worried his ultra-rational lover won't ever be able to share his emotions. If he and Nathan can't find something more than great sex in common, they'll be left with the square root of absolute zero.
Buy Links
Amazon Global
GoodReads
About Josephine

English through and through, Josephine Myles is addicted to tea and busy cultivating a reputation for eccentricity. She writes gay erotica and romance, but finds the erotica keeps cuddling up to the romance, and the romance keeps corrupting the erotica. Jo blames her rebellious muse but he never listens to her anyway, no matter how much she threatens him with a big stick. She's beginning to suspect he enjoys it.
Jo publishes regularly with Samhain, and now has over ten novels and novellas under her belt. Her novel Stuff won the 2014 Rainbow Award for Best Bisexual Romance, and her novella Merry Gentlemen won the 2014 Rainbow Award for Best Gay Romantic Comedy. She has also been known to edit anthologies and self-publish on occasion, although she prefers to leave the "boring bits" of the ebook creation process to someone else. She loves to be busy, and is currently having fun trying to work out how she is going to fit in her love of writing, dressmaking and attending cabaret shows in fabulous clothing around the demands of a preteen with special needs and an energetic toddler.
Website
Newsletter
GoodReads
 More Author Reviews