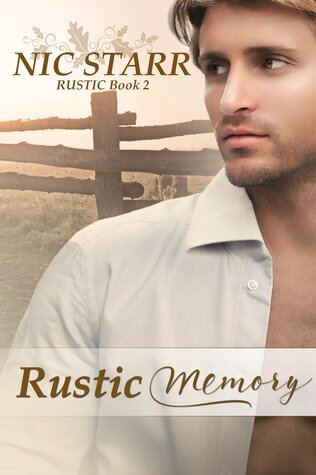 Title: Rustic Memory (Rustic #2)
Author: Nic Starr
Publisher: Self-Published
Release Date: February 26, 2016
Genre(s): Contemporary
Page Count: 159
Reviewed by: Crabbypatty
Heat Level: 4 flames out of 5
Rating: 4.25 stars out of 5
Blurb:

Tyler Samuels had his reasons for leaving the country town where he grew up. He moved to the city, established a home and a career, and found love. Now Ty is in his early thirties, and as his life takes another tragic turn, he finds himself returning to the place he first ran from.

Mac McGrath has lived in Armidale all his life. He loves his family and his job as an electrician, running the family business. The only thing missing in his life is a relationship. When Ty, his teenage crush, arrives back in town, maybe he has found someone to love at last.

What starts as friends with benefits quickly turns to more for Mac, but Ty will need to let go of his memories if he is to learn to love again. But can Mac wait that long?

Set in Armidale (the same setting as Rustic Melody), Ty Samuels is the new owner of the Central Hotel, having returned from Melbourne to begin a new chapter in his life after a personal tragedy. He reconnects with "little" Robbie (Mac) McGrath, the younger brother of his classmate Lachlan, who is now 6'4″ and gorgeous. Before too long, Ty and Mac are involved, which in Ty's mind means "friends with benefits" while Mac is hoping his childhood crush on Ty will finally turn into the loving long-term relationship he has always wanted.
The strength of this book is the relationship between Ty and Mac, which is not angst-filled or ridden with miscommunication or misunderstandings. This is about two men who have experienced enough of life (both are in their 30's) to realize that the small things are worth savoring – good friends, good food, a quiet evening together. The chemistry between Ty and Mac is smokin' hot and very passionate, and the drama of the story is that Ty needs to decide (as Tennyson wrote) whether "'Tis better to have loved and lost than never to have loved at all."
We meet again some of the characters from Rustic Melody (Barry, Steve, Wendy, Dave & Stu) as well as some new folks – Mac's brother Lachlan and his family, Ty's best friend Grant – but the story is very much focused on Ty and Mac. The ending wraps everything up fairly quickly, though, and I would have liked to had a bit more time devoted to Ty and Mac coming to terms with their future rather than an insta-ending. But this is just some small nitpicking – read the book!
Rustic Series

 Amazon Global Author Link GoodReads More Author Reviews

Advanced Review Copy
Galley copy of provided by
author
in exchange of an honest review.