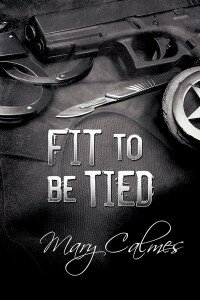 Title: Fit to be Tied (Marshals #2)
Author: Mary Calmes
Publisher: Dreamspinner Press
Release Date: September 18th 215
Genre(s): M/M Contemporary Mystery/Suspense
Page Count: 244 pages
Reviewed by: Belen
Heat Level: 4 flames out of 5
Rating: 5+ stars out of 5
Blurb:

Deputy US Marshals Miro Jones and Ian Doyle are now partners on and off the job: Miro's calm professionalism provides an ideal balance to Ian's passion and quick temper. In a job where one misstep can be the difference between life and death, trust means everything. But every relationship has growing pains, and sometimes Miro stews about where he stands with his fiery lover. Could the heartstrings that so recently tied them together be in danger of unraveling?

Those new bonds are constantly challenged by family intrusions, well-intentioned friends, their personal insecurities, and their dangerous careers—including a trial by fire when an old case of Miro's comes back to haunt them. It might just be enough to make Ian rethink his decision to let himself be tied down, and Miro can only hope the links they've forged will be strong enough to hold.

I have one thing to say about this story: Buckle up, 'cause this ride goes from zero to a hundred sixty in three point one seconds flat!



Okay, so obviously I have more to say than that – but I really wanted to use that gif…
At the beginning of the story we find ourselves back with Miro and Ian being…Miro and Ian. It's been about eight months since they've become partners in private too and their private relationship is not all kittens and rainbows…
What was sad was that I always did that, always wanted it all instead of being happy with what I had. My friends had different theories about why I pushed when the person I cared about—and in this case: desperately, madly, loved—wasn't ready. The idea everyone liked the best was that because I was a foster kid who was passed around from pillar to post until I was legal, when I saw my happily ever after, I went after it like a charging bull.
Even though privately Miro and Ian are having some growing pains their professional relationship is the same as ever. Seriously. In the first chapter alone there's two foot chases, a roof jump, and Sam Kage being a badass. It's AWESOME!

So what do I think you need to know? The story is once again told entirely from Miro's perspective. Chickie Baby, Drake and Cabot, and Dr. Hartley all make appearances. And I really, really don't want to give anything away with this review – suffice it to say I think I said, "Holy shit!" more times than any other book this year. This was a roller coaster ride of action and emotion that I didn't want to end. Fans of All Kinds of Tied Down will not be disappointed with this installment.
"What the fuck, Ian? I'm your partner. Before anything else, I'm the guy who—"
"No!" he roared. "Before anything else you're my life, you stupid prick!"
Okay, okay…one thing (of several) that I absolutely loved? NSFW…
Spoiler

Ian finally topping Miro and pounding him hard!

Day-um! So, so good!

Side Note: Miro's fabulous clothing and shoes are now being worn by both Miro and Ian so if you participate in that drinking game keep the ER on speed dial is all I'm sayin' – someone's gonna need a stomach pump!)
Bottom Line: This story grabs you by the throat and doesn't let up the grip until the final page. Packed with action, humor, scorching hot sexy times, and plenty of emotions…Fit To Be Tied was a rollicking, action packed, good time I just wanted more of!
HIGHLY RECOMMENDED!!

Once again, Tristan James outdoes himself. He takes this story and shines a light on all the deeply nuanced corners and crevices. It's a fantastic performance for a superb story!



Audible Link  Author Link GoodReads

Advanced Review Copy
Copy generously provided by in exchange for an honest review.