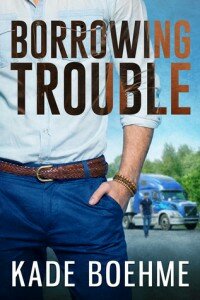 Title: Borrowing Trouble
Author: Kade Boehme
Publisher: Self-Published
Release Date: October 16, 2015
Genre(s): Contemporary
Page Count: 170
Reviewed by: Renee
Heat Level:  3.5 flames out of 5
Rating:  4 stars out of 5
Blurb:
After an amicable divorce, Jay Hill decided to move back to his rural hometown with his teenage kids. Being on good terms with his ex-wife and in laws has made the transition into single life pretty smooth. Things were good and uncomplicated. Then Landon Petty walked into his life.

Landon didn't expect to still be stuck in his hometown working at his dad's sawmill at this point in his life. Being an openly gay truck driver was as awkward in practice as in description. When Jay came to take over managerial duties at his dad's business, Landon was surprised to find a friend. When Jay turns out not to be as straight as he thought, things get complicated.

When feelings for Landon shine a light on how much Jay's life has been actually half lived, he's forced to decide if he'll jump in with both feet or if he'll let Landon slip through his fingers.
This was a good story. Not my favorite by Kade, but a satisfying story indeed.
I loved the fact that one of the MCs was in his late 30s. Jay moves back to his home town a few years after his amicable divorce with his children in tow. He befriends Landon, and the two of them begin a friendship for months before Jay begins to feel an attraction that freaks him right the hell out.
I sincerely liked the simplicity of the romance here. Friends to lovers with no side stories apart from the people in each of the MCs' lives. It was real. It was honest. It was about communication and believing in each other.
It's a sad day when the kids are more mature than their mother when Jay is outted, but even that is handled with brilliance by Kade instead of a "big misunderstanding" that a lot of authors latch onto for plot drama. Thank you, Mr. Boehme.
A nice, satisfying read, indeed. Recommended.
Author Link
GoodReads