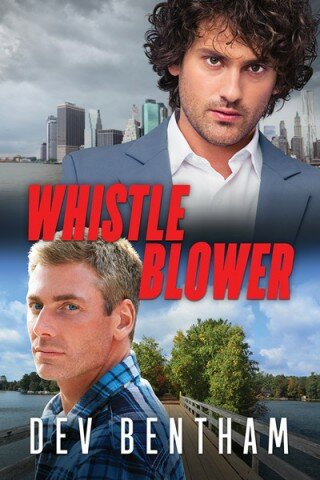 Title: Whistle Blower
Author: Dev Bentham
Publisher: Dreamspinner Press
Release Date: February 5, 2016
Genre(s): Contemporary
Page Count: 214
Reviewed by: crabbypatty
Heat Level: 4 flames out of 5
Rating: 4 stars out of 5
Blurb:

Money can't buy happiness. Jacob Nussbaum knows this better than anyone. He's a corporate lawyer deep inside a huge New York firm, where he works overtime, sacrifices any chance at a personal life, and has been selling his soul for years. With a secretary as his only friend, he trudges on, until his whole world is blown apart by a manila envelope of photos—evidence that one of the firm's partners is the dirtiest lawyer in one hell of a filthy business.

In search of the truth, Jacob travels to a small northern Wisconsin fishing resort. There he meets Ben Anderson, a brutally lonely man, who knocks him off his feet. Ben prompts Jacob to reevaluate his life. He's a dozen years older than Jacob, still recovering from the death of his long time love, and doesn't want to leave anyone a widower. But a jaded New Yorker on a soul-searching mission might be just the man to convince the grieving Ben that it's never too late to begin again.

"Some men were meant to be alone. Much as he wished it weren't true, he'd become one of them."
Jacob Nussbaum receives one helluva wake-up call when anonymous photographs appear on his desk, indicating that one of the firm's top lawyers bribed the opposing council in a devastating chemical spill case (think "Erin Brockovich"). Jacob decides to track down the now-retired opposing council, Carl Halverson, who is scheduled for a week of fishing at the remote Wildcat Island Resort in northern Wisconsin. When Jacob arrives to confront Halverson, he meets owner and proprietor Ben Anderson, a 50 year-old hard-bodied Brad Pitt look-alike with the saddest blue eyes.
Turns out Carl "The Cancellation King" Halverson is a no-show, and Jacob's unplanned vacation has him rethinking the job he has lived and breathed for the past 15 years. The growing attraction he feels for Ben also makes him aware he has been alone for far too long. Jacob's muscular olive skinned beauty reminds Ben of his partner of 25 years, Manny. But after helplessly watching Manny die from cancer at the age of 67, Ben does not want a younger lover to have to watch him die.
The attraction between Jacob and Ben is a delicious slow burn, and it ignites into some very hot and oh-so-sweet sex scenes. Bentham portrays their emotions and sensuality so beautifully.
As the story continues, each man must decide what really matters. Do they dare to make wrongs right, dare to push beyond their pasts, and dare to love again?
I felt at time the pacing of the story was off. There are several too-convenient plot devices to bring Ben and Jacob together, and while the "whistle blower" theme holds the book together, it is very much a subplot and the culmination seemed a bit rushed. The ending, while definitely a well-deserved HEA, came together around 95% and for a couple who had really struggled with some big issues, it all wrapped up a bit too suddenly and easily.
This is my first Dev Bentham book, and I look forward to reading more! As a fellow Midwestern, I can attest that her descriptions of a northern woods resort are spot-on, and the complexity of her characters is a definite strength.

 Amazon Global Author Link GoodReads More Author Reviews

Advanced Review Copy
Galley copy of provided by in exchange of an honest review.