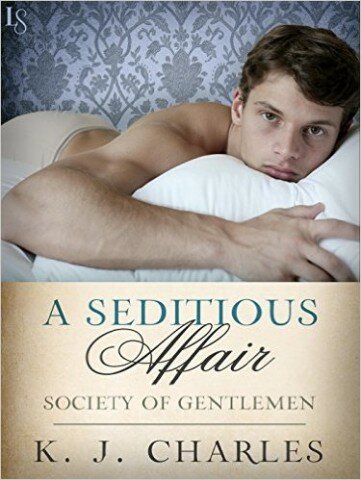 Title: A Seditious Affair (Society of Gentlemen #2)
Author: K.J. Charles
Publisher: Loveswept
Release Date: December 15th 2015
Genre(s): Historical
Page Count: 251
Reviewed by: Ele
Heat Level: 4 flames out of 5
Rating: 5+ stars out of 5
Blurb:


K. J. Charles turns up the heat in her new Society of Gentlemen novel, as two lovers face off in a sensual duel that challenges their deepest beliefs.

Silas Mason has no illusions about himself. He's not lovable, or even likable. He's an overbearing idealist, a Radical bookseller and pamphleteer who lives for revolution . . . and for Wednesday nights. Every week he meets anonymously with the same man, in whom Silas has discovered the ideal meld of intellectual companionship and absolute obedience to his sexual commands. But unbeknownst to Silas, his closest friend is also his greatest enemy, with the power to see him hanged—or spare his life.

A loyal, well-born gentleman official, Dominic Frey is torn apart by his affair with Silas. By the light of day, he cannot fathom the intoxicating lust that drives him to meet with the Radical week after week. In the bedroom, everything else falls away. Their needs match, and they are united by sympathy for each other's deepest vulnerabilities. But when Silas's politics earn him a death sentence, desire clashes with duty, and Dominic finds himself doing everything he can to save the man who stole his heart.

Includes a special message from the editor, as well as an excerpt from another Loveswept title.
"Heaven in Hell's despair. You're mine, understand? Mine to the bone." […]

"I own you, Tory. Nobody else. No lackwit gentry-fuckster who doesn't know how to treat you right." His hand was around Dominic's prick, fingers just touching, making him wait. Dominic's fingers were clenched on empty air. "Like it's a hardship to have those pretty eyes pleading. Like I wouldn't want that pretty mouth telling me I'm the master here. Christ, the way you give it up to me. I own you."
This book. This book owns me. It grabbed me by the throat and wouldn't let me go. 5 stars are not enough for the best historical I 've ever read.
This was real and accurate from the smallest detail, down to historical events that took place during these ugly times in the UK. It's my kind of historical. Aristocrats, lords, and viscounts are ok, but I prefer real life heroes over them any day.
This isn't an easy love story, and the romance is gritty and raw. The humilliation kink isn't usually my cuppa. The thing is, when the sex games end, Silas worships Dominic. He cherishes him with everything he has. He is the only one who understands him and makes him see that his desire to submit shouldn't be a source of guilt. Silas might be the Dom, but he is the one on his knees for Dominic.
There are a lot of politics here, but the story is well researched, and I was never bored. On the contrary, something was always happening to hold my attention.
Silas and Dominic initially only have Wednesdays together, but what begins as just sex between strangers, soon becomes something much more.
They make love, read books, talk politics, and drink wine. And share William Blake quotes.
The writing is flawless and engaging, but I didn't expect any less.
I'm not coherent enough for a longer review. All the stars, all the stars for this book.
Society of Gentlemen Series

 Author Link GoodReads More Author Reviews