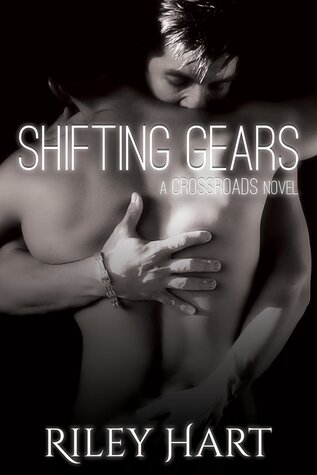 Title: Shifting Gears (Crossroads #2)
Author: Riley Hart
Publisher: Self Published
Release Date: February 10th 2016
Genre(s): Contemporary Romance
Page Count: 3820 Kindle Locations
Reviewed by: Lili
Heat Level: 3.5 flames out 5
Rating: 4.5 stars out of 5
Blurb:
Rod Nelson is used to being someone's good time, and that's fine with him. Spending his days at his adult toy store, Rods-N-Ends, he never knows who he'll meet. The second Landon Harrison walks in, he has Rod's full attention. It seems as if Landon wants him too, so why won't the man jump in the sack with him already?

Landon never thought he'd return home to the town where memories lurk around every corner. He has to admit, Rod makes the adjustment a lot easier. He keeps Landon laughing. Despite the fierce attraction between them, he's not willing to risk his newfound friendship to get laid.

Neither man wants something serious, but the more they're together, the harder it is to keep their hands to themselves, until eventually they stop trying.

But flings between friends are never simple, and as they attempt to shift gears, diving into their first relationship, they're slammed with setbacks. If they want to truly move forward, before they hit the open road together, they're going to have to let go of a past that could make them crash and burn.

Shifting Gears by Riley Hart is the follow-up book in the Crossroads Series. Rod, whom we met in the first book has now opened his own adult sex toy store- Rods-N-Ends, and it's there he met Landon. Right off the bat, we can feel the chemistry between them, but Landon is hesitant to go beyond friendship afraid it'll mess up their growing friendship.

My highlights:
•Rod. He was just as great as I'd remembered. He's sweet and funny. I enjoyed getting to know him better and found myself wanting to drop kick his dad the more I learned about his past.
•Landon. Although I found myself wanting to shake some sense into him, he won me over in the end with his nurturing nature.
•Relationship development. I love friends to lovers stories especially when there's witty banter between them. Riley Hart did an excellent job building their sexual tension and growing it into more.
•Bryce & Nick. It was nice to catch up with them and see them still happy together.
•Heat factor. Dirty talk is always a plus and Landon's got a potty mouth on him. 😉
•I was pleased the angst wasn't over done nor melodramatic.
•It's got humor.
•I love that it's told from an alternating POV.
•The end. Sweet and fluffy just the way I like it.
In the end, I think Riley's got another winner on her hands. She delivered another sexy, swoony story about self-worth, healing, and family. 4.5 Stars♥

Author Link GoodReads More Author Reviews
Advanced Review Copy
ARC kindly provided by
Riley Hart
for an honest review.